Honfleur,
By François Simon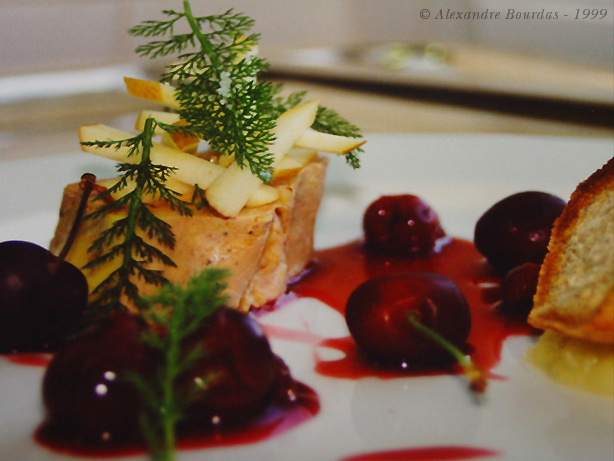 It's enough to make you dizzy – choosing somewhere to eat in this region awash in restaurants and that all the guides have been over with a fine-toothed comb.  There are a lot of places to choose from.  Too many, in fact, and as is often the case, you just don't know where to settle in for a meal. 
It's as though you were in a market in the south of France where "the apples, pears and scoubidous"* all seem equally appetizing (as well as virtually indistinguishable).  You enter a creperie in the port of Honfleur, and the chef is in the dining room scarfing down a crude meal.  You realize immediately what sort of crepe you'll be getting – dry, slapdash, just plain bad. 
It's the same old mistake.  Better to go well-equipped with, for example, these two little places that are sure things.  If you're dissatisfied, the coffee's on me.  The first, SaQuaNa, is in Honfleur, place Hamelin (02 31 89 40 80).  It's among the new generation of restaurants here, straightforward, without embellishment and boldly inventive.  It's funny – one has the impression that nothing can stop the kitchen of Alexandre Bourdas (formerly of Michel Bras, in Japan).  On the incredible 40-euro menu you'll find the following savory line-up : kephir with coriander, pralines, mint, chickpeas and preserved lemon, followed by lightly braised filet of sea bream (with baby clams and almond-infused warm milk), free-range roast chicken (the juices thickened with shellfish broth), a selection of cheeses, an "autumn" cappuccino with chilled pumpkin, cocoa powder, and hazelnuts with whipped cream and grilled chestnuts.  
The restaurant of the year: it's exquisite. 
My other suggestion isn't in the same league.  To be delivered tomorrow morning in order to give you a little time to check out Sa.Qua.Na's website…

*Translator's note: "Des pommes, des poires et des scoubidous" is the title of a song by Sacha Distel that was a hit in France in 1958. Scoubidou is a plaiting and knotting craft popular among children.
 SaQuaNa : 22, Place Hamelin 14600 Honfleur, France Tel : 02 31 89 40 80