Paris,
By Joe Ray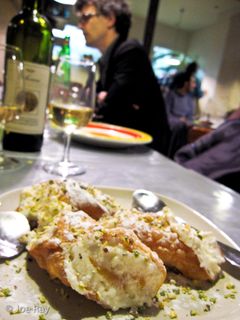 A quick pause from Belgian beer to say that when it comes to finding the best Italian in the 11th arrondissement, you win, François.
Last night, taking the advice of locals and friends, a sommelier friend and I went to Casa Vigata for Sicilian on rue Léon Frot for a hit and miss extravaganza.
The hits: The Seafood – a clam and artichoke appetizer full of flavor and sauce made for bread dipping, whole-roasted octopus served with just a slice of lemon and a perfectly-cooked breaded swordfish main. Paris can be disastrous when you're looking for good fish and these guys nail it.
The Cannoli – Leave the gun. The friendly owner makes these daily using a crispy shell, light, tangy ricotta and just a touch of candied orange peel. If there's better in Paris I haven't found it.
The misses:
Consistency: Our neighbors ordered two of the same dishes as we did; their octopus was cooked better (mine was slightly over) and their swordfish/caponata portions were significantly larger. They also got a shot of lemoncello with their check. The last is certainly at the owner's discretion, but all three together leave a bitter taste.
The worst:
The wine – overpriced and/or not that good. A red Sicilian table wine for 40 euros? I love a good Nero d'Avola, but please. It took us 10 minutes looking at the wine list to essentially decide how we were going to be fleeced and we still lost. My friend was talking about…something when I got distracted by a sip of the white we ordered…
Me: "This is bad."
Sommelier friend: "Very bad."
The verdict? I'll try again in a year. Maybe.
Casa Vigata : 44 rue Léon Frot 75011 Paris +33.1.43.56.38.66 Map