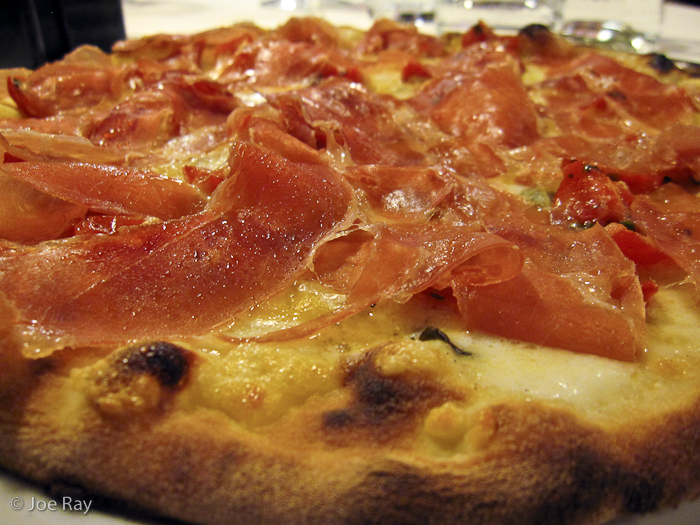 By Joe Ray
Ragusa, Sicily
Whenever I'm in the Motherland, Francesco, my good pal and stalwart guide, humors my quest to find the best pizza in Sicily.
There's some good stuff in the south where he's from, strong examples in Palermo and more unique, thicker pies in Trapani. We ignore the question of 'what is real Sicilian pizza?' and just go with our taste buds.
In the end, we got to the point where, instead of calling places by their names, we'd just call them by their score on a ten-point scale. The place in the hotel down the hill with Speedy Gonzales on the takeout box? Pizza Sette. The seaside place? Sette Punto Cinque. Reigning southern champion? La Contea in Modica, where a pie with rocket, cured wild boar and parmesan (a combination that tends to send me over the moon with glee no mater in which state I find it) which earned it the Pizza Otto title.
Before I came back to the Motherland, Francesco started hinting at a new find: a place he was calling 'Pizza Nove Plus.' The 'plus' being for the food at Ristorante - Pizzeria Caravanserraglio (which we'll get to in another post) hidden in the outskirts of Ragusa.
As a group appetizer, we order a tomato, mozzarella and basil pie. The sauce is sweet and acidic, the crust crisp and soft with wood-fired flavor. Plus, there's milky sensuality from the mozzarella and a crisp, fresh bite from the basil.
Pizza Otto was dethroned in one bite.
Later, after a full non-pizza meal, I get edgy, thinking that I might not be back here for a while.
After the cheese course, I find chef Francesco Caravanserraglio wandering the floor and ask for another pizza.
Full to the gills, everyone at the table stares at me funny until it shows up, but Francesco dutifully has a slice.
The pie has a sort of flight path: "This won't change my life," I think over my first bites, but then the Parmesan and cured meat sweeten and begin working together.
I look over and Francesco has broken his fork-and-knife protocol and eats his pie with his hands. He pops the last bite of crust into his mouth with an 'I-told-you-so' smile.
Then he asks for another slice.
Ristorante - Pizzeria Caravanserraglio MAP
via P.Nenni 78
Ragusa
http://www.caravanserraglioragusa.com/
Food and travel writer and photographer Joe Ray is the author of the blog Eating The Motherland and contributes to The Boston Globe's travel blog, Globe-trotting.