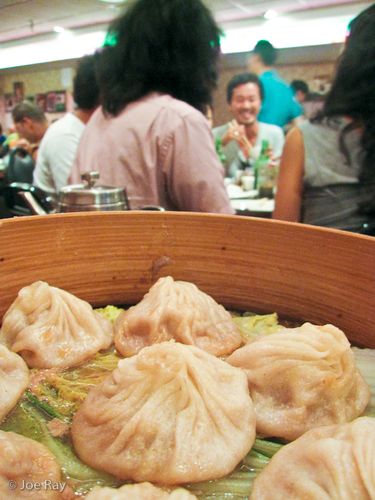 NEW YORK CITY
By Joe Ray
Years ago, when I cooked at the Left Coast's Betelnut, a hidden army of wizened Chinese men would come in to roll dumplings in the basement. These quiet, artistic men were lost in their craft, turning dough into flat discs that, with a twist of the fingers, would encase whatever filling they put inside them: crustaceans, meat, vegetables, love.
They would make what seemed like thousands at a time and, unlike the other cooks in the kitchen, once that task was done, so were they.
Lucky bastards.
My first visit to Joe's Shanghai was part of a get-to-know-you weekend with a former sweetie's parents a decade ago. Then as now, there's a reason the grease-splattered walls are festooned with pictures of mayors and glitterati with their arms swung around the owners: Joe's dumplings are the bomb.
Instead of searing something (like a steak) and hoping all the tasty juices stay inside, here, the pork and crab goodness is held neatly inside the dumpling.
Skewer one with a chopstick and sip the juice that fills the spoon, or take a bite and blush as it runs down your chin.
Shudder with happiness as you swallow.
Joe's Shanghai - count on about $10-15
http://www.joeshanghairestaurants.com/ - while on their site, do not miss the "Kill Soup Dumpling" video.
Three Locations – I went to Chinatown - MAP
9 Pell Street
New York, New York 10013
+1-212-233-8888
Food and travel writer and photographer Joe Ray is the author of the blog Eating The Motherland and contributes to The Boston Globe's travel blog, Globe-trotting.