NEW YORK CITY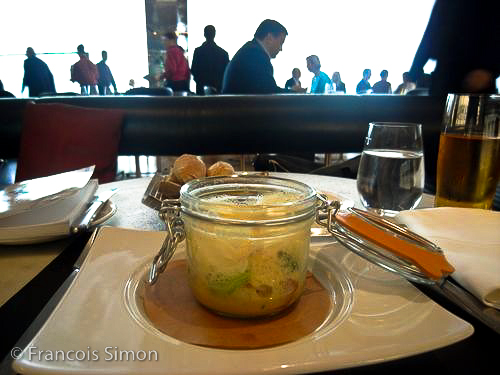 This Sunday morning had a funny little taste to it. I found myself roaming the streets for hours. The rain stopped and out came the sun with its sticky thickness. I took shelter in the Museum of Modern Art, jumping from one room to the next to avoid groups and caterpillar-like queues before dropping into the museum restaurant.
At first, I regretted not having gone to the dining room that offers a view of the gardens. That's where you'll find the gastronomic restaurant ($ 55 for lunch; (212) 333-1220). I actually sat at the bar. Much better as it turned out with its fashionable small-plate snacks like this vegetable-lobster verrine. It was perfect.
I left feeling revived, all the more so because I'd found my lost copy Tom Wolfe 's "From Our House to Bauhaus." Then, I stopped by Tiffany's and came across a very funny elevator attendant. A man distractedly walked in and pushed the number for his floor – the 3rd floor. Expression of surprise on the capped employee's face: "Why don't you go ahead and push all the buttons… Want my cap, while you're at it?" The daydreamer looked stunned, the elevator car audience was delighted.