NEW YORK CITY
I was still in a huff about having missed my flight the day before over some absurd passport business. I spent 6 hours at police headquarters and the next day - zoom! Off I flew. When I arrived, Stephen, deputy editor of Departures Magazine, was waiting for me at Momofuku Ssams Bar to put the pedal to the metal.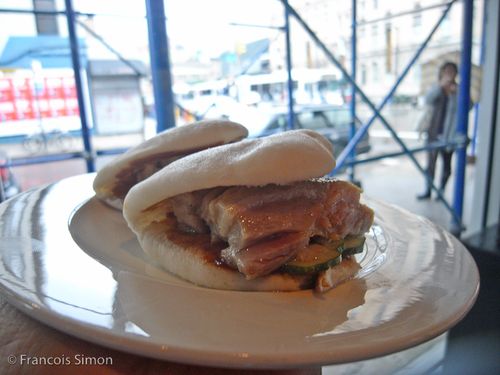 I'd asked him for "a new gastronomic experience." The result was 21st century Asian fusion: salad with bacon and sprouts, little pork buns... Vast restaurant, calm around 2pm, but in the evening the place is hopping.
As you leave, don't forget to pop into the bakery next door. It's actually Momofuku's laboratory and I have to say the cookies are to die for; especially the "compost cookie" made of potatoes, chocolate, coffee, butterscotch… Bam! First knockout.
Momofuku Ssams Bar 207 2nd Ave, New York, NY (212) 254-3500.  Map