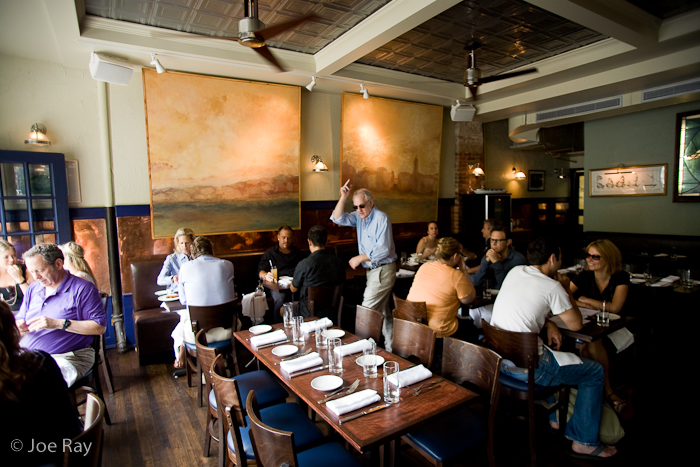 MANHATTAN
By Joe Ray
I lied. I said there was 'one' NYC restaurant I'd really like to go back to eat in and, well, like I said…
Even at brunch a short while back, you could tell the new Le Pescadeux is a spot to watch: there's a perfect smoked trout omelette and a steak and eggs that might stop your heart for multiple reasons at prices that won't. And that's not even counting Champagne and chats with Chuck.
Dinner's what I'd really like to try, preferably with a partner for footsie. The restaurant's fish-focused Quebec cuisine (harking back to owner Charles Perelmutter's origins) is on display – and he's breaking his new chef's back to please by offering dinner 'duets' - a pair of half-sized portions – a great way to showcase what you can do and get a good new restaurant's good name out there. Perelmutter chalks it up to "culinary A.D.D."
I checked in with Perelmutter to find out about a chef change – the impressive Matthew Ridgway left and has been replaced by Adriano Ricco (clever poaching on Chuck's part as Ricco's done stints at BLT Fish and Tabla) – here's what Chuck had to say about the 'duet' concept.
Even if I am in a great Seafood restaurant I get bored with my fish halfway through, and look to see what I can 'mooch' from others, usually with no success (people don't share anymore). I decided I would not be bored again and now I, and my guests, can enjoy 2 different half orders of fish prepared 2 different ways without getting their reaching fork slapped away.
Note the capitalization of Seafood.
Right now, I'd take the grilled octopus and Wild Rock bass with a little neck nage … kick the tires on a fun concept and see what the new chef can do.
Le Pescadeux - MAP
90 Thompson St
New York
212-966-0021
[email protected]

Food and travel writer and photographer Joe Ray is the author of the blog Eating The Motherland and contributes to The Boston Globe's travel blog, Globe-trotting.