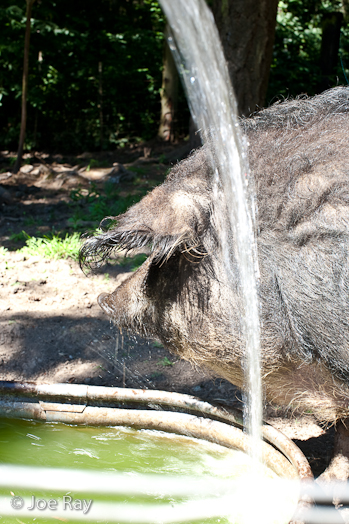 I visited the Willows Inn on Washington state's little-known Lummi Island for an upcoming Boston Globe story a few weeks back - the restaurant is locavore heaven. Proprietor Riley Starks and his partner Joan Olsen catch the salmon in reef nets, grow much of their own produce and raise amazing mangalitsa pigs (above) at their Nettles Farm just up the road, buy incredible spot prawns caught in the water in front of the inn and wonderful lamb raised a few miles down the road. On some nights, even neighboring Bellingham's Boundary Bay Brewery's beautiful Reefnetter Pale Ale is on tap. The whole thing is done so well, they pull off the local thing without the twee thing that often goes with it.
It's about to get even more interesting. Starting August 23, Blaine Wetzel, a Washington native fresh from a stint in the kitchen at Copenhagen's noma - the number one restaurant in the world (if you buy that sort of thing) - will be taking over as executive chef at the inn's restaurant. Very curious to see what happens. noma's chef Rene Redzepi is a big proponent of the New Nordic movement - a group of chefs working to go local even at those higher latitudes, a philosophy that should dovetail very nicely with what Starks and Olsen have done.
The inn is a two-hour drive and five minute ferry ride from Seattle and I'd bet it's worth a trip to see what's cooking ... I'm planning on a visit.
The Willows Inn – MAP
2579 West shore Dr
Lummi Island, WA 98262
888-294-2620
www.willows-inn.com
Food and travel writer and photographer Joe Ray is the 2009 Lowell Thomas Travel Journalist of the Year and author of the blog Eating The Motherland. Twitter: @joe_diner.