BROOKLYN
By Joe Ray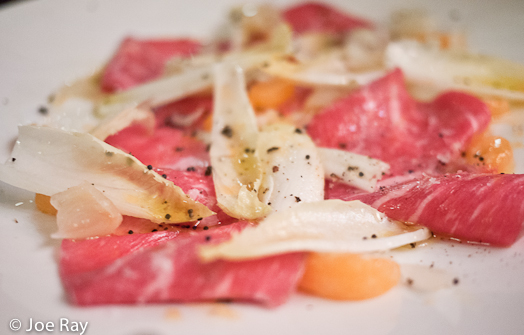 Cue the rock music, throw on a cool T-shirt and hop in the L train to Williamsburg – Roberta's cures what ails you. While the possibility of a lamb dish worthy of a spot in Daniel next to a pizza might sound a bit schizophrenic, here it works just fine.
With its woodsy feel and merry, multicolored light garlands on the walls, Roberta's, est. 2008, has a feeling of a saloon that sits not too far from the 49th parallel – one that hits full swing by 7 and stays that way till the last tippler is pushed into the Brooklyn night at closing time. I was invited by my sweetheart, Elisabeth, who'd picked up on some very strong hints on where I'd like to celebrate my birthday and we were not let down.
These guys, particularly chef Carlo Mirachi, have some serous friends in the food sourcing business. 'Beef Carpaccio' shows up with the marbling of something noteworthy and turns out to be Wagyu from a farm on a big, flat state out west. A drizzle of stellar olive oil creates a dreamy, one-two-three-four adagio progression between vegetal freshness, slick vegetable fat, beefy meatiness and Wagyu fat. I got as much pleasure nibbling away at it as watching Elisabeth enjoy it – something she readily encouraged.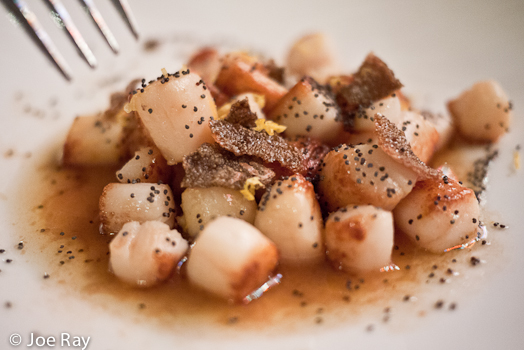 One plate over, tiny bay scallops with crispy bits of trout skin, Meyer lemon and poppies snuggled in a bowl, reminding me of not one but two childhood favorites – Mom's broiled scallops, and, thanks to the poppies and the almost bread-y flavor to the broth they waded in, the frozen Pepperidge Farm rolls she'd make in the oven when I was little.
The big gun, however, was the lamb breast main course, cooked sous-vide for a long time then sizzled for a short time to create a crispy/melting combination that recalls the textures of a savory crème brulée. Nearby, a comma of yogurt, dollops of a light mint aspic and gently-braised leaves of, I believe, radicchio and swiss chard provided punctuation marks of acidity, bitterness and a faint sweetness. Any three-star restaurant would be proud to serve the dish at three times the price.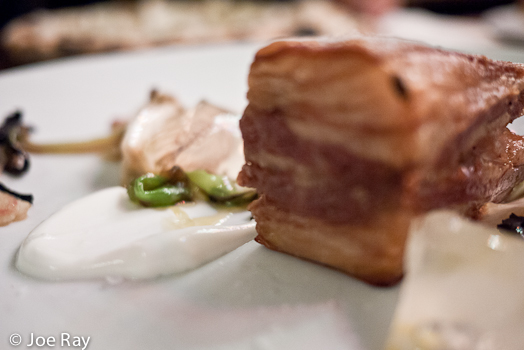 Next to the lamb, we'd ordered a pizza – this is a pizzeria, after all – and maybe because it was next to something so spectacular, our pie was the evening's only relative whiff. The 'Tracy Patty' pie features tasty mozzarella, ricotta, lip-smacking boquerones (vinegar-drenched anchovies), garlic and savoy cabbage, but it lacked some juicy agent like tomatoes or more of that amazing olive oil to shuttle each slice it to its final home.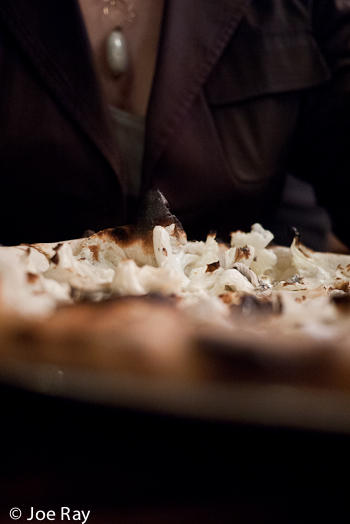 No matter. Next time we go, we'll likely try another pie. Perhaps the 'Voltron' – it's got sopressata.
While some crow that the bar-like atmosphere is an odd or uncomfortable place for food this sophisticated, we could have cared less. This is the kind of spot where you want to grab good friend or three on your birthday and have one of the best nights of the year, fussiness be damned. Mirachi's created an American doppelganger of Sicilian chef Francesco Cassarino's wonderful Pizzeria Caravanserraglio.
On the subway and once nibbling some of Elisabeth's fantastic birthday cake at home, we got talking about the best dishes we'd ever had. Rare are the meals that engender that sort of conversation.
"What were the tens?" Elisabeth asked, a question that brought us around the world and back to the meal still in our bellies.
Our lamb, we agreed, was a 9 ½, the scallops a scarce point and a half behind.
"What about the Wagyu carpaccio?" I asked. "A solid eight?"
She responded without hesitation.
"That was a ten."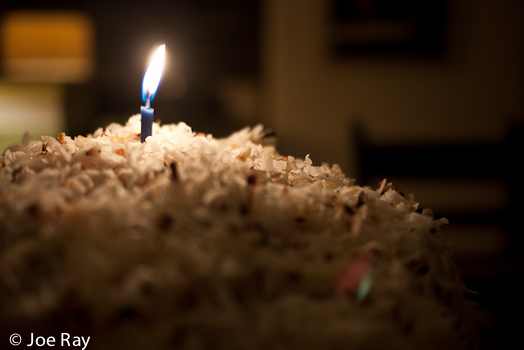 Roberta's
261 Moore St.
Brooklyn
+1 (718) 417-1118
www.robertaspizza.com
(Editor's note: No reservations at Roberta's - go early or wait in line.)
Food and travel writer and photographer Joe Ray is a Lowell Thomas Travel Journalist of the Year and author of the blog Eating The Motherland. Follow him on Facebook and on Twitter: @joe_diner.