Ze Kitchen Galerie (Paris)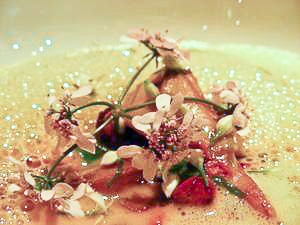 What we find so wonderful about William Ledeuil's Kitchen Galerie is the blending of ideas. I defend this place, while certain specialists turn up their noses. Not enough of this, they say, too much of that. Whatever. The point is it's darned good, straightforward, plunging into different kinds of cuisine as one might clear branches from one's path in the forest.

It's hard to know if William Ledeuil has a particular aim in mind, since he doesn't speak. He acts. He prefers working in the shadows to the false glare of the spotlight, discretion to exhibition. He has no aspirations to preeminence. His dedication to his clients mirrors that of his waitstaff, and he chooses wines that suit his fancy rather than playing to the Gallery, even if it is that of the Kitchen. When you leave, you see more clearly. In my top 10 of the moment.

Ze Kitchen Galerie. 4, rue des Grands-Augustins, 75006 Paris, Tel : +33 1 44 32 00 32; Count on 50 euros per person. Web Map
______________________
Paris : Le Paul Bert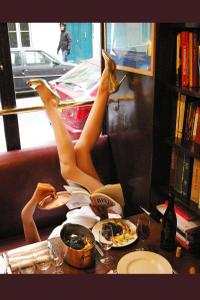 One of my favorite places. A place for lovers of fine food, bold, with a wine list that's eye-popping.
At Paul Bert, meat is served extremely rare, rare or…. badly cooked. Humor is part of this cuisine, cuisine that's worthy of a great restaurant, but it stays simple. The dishes are vibrant, with plenty of energy, like those scallops served in a buttery jus.
They're firm, sweet, and served in their salty element. I remember a Paris-Brest that was just perfect, the crust just as it should be. They approach perfection here in terms of the quality of their products.
The ambiance is Parisian, the clientele is happy to be there – and so, a bit noisy – you're going to love it. Ask to be seated in the first room. And count on at least 50 euros.
Le Paul Bert. 18, rue Paul Bert. Tel 01.43.72.24.01). Closed Sunday and Monday. Map
Photo : 3MyR
_______________________________
Lastour : Puits du Trésor

A chef who, out of the blue, talks to you about the « truth of the products » on his menu is pretty cheeky. That's precisely the kind of thing Jean Marc Boyer of Puits du Trésor says. When he proposes a hare with porcini mushrooms, there's nothing else in the plate. The mushrooms had been picked that morning (a raw mushroom gill reveals all the tenderness of dawn), and the hare must have been scampering about not long before in the Provencal shrubland. A celery purée accompanies them. And then : lobster fricassee with crispy pasta, fried frogs legs, rack of lamb…
That evening, at the far end of the Aude countryside, we were overcome by an irresistible feeling of happiness just being in that dining room, surrounded by regional wines (wonderful and bold), and happy locals. You can prolong the pleasure by getting a room in a bed and breakfast just a short distance away – the estate of La Villatade – amidst countryside overwhelming in its beauty. Bright rooms of boundless tranquility from 60 euros. The next morning, you'll almost be promising yourself to change your life. Château La Villatade, à Sallèles-Cabardès (04 68 77 57 51).
Le Puits du Trésor, à Lastours Tel : +33 4 64 77 50 24. Menus from 39 euros. Map Web
__________________________________________
Lyon : Mère Brazier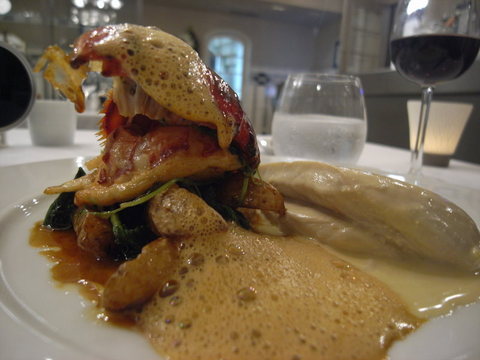 At 7:30, there wasn't much of a crowd. Mère Brazier in Lyon. Sounds like the name of a hip-hip group – it just happens to be a culinary legend. Taken over by Mathieu Vianney, the place looks terrific with all of the art-deco ceramics restored. As for the food, it wouldn't be too much to say it's impeccable: a pâté en croûte (with a crust), Bresse poultry and lobster, a thin chicory tart…It was delicious, uncomplicated.
At 9 o'clock I was on the train home, relieved to have rediscovered an old haunt that hadn't moved. Highly recommended for those who enjoyed old-fashioned pleasures and experiences (the best kinds!).
12, rue Royale. Tel : +33 4.78.23.17.20. Menus from 45 euros. A la carte figure on 100 euros. Map
Auberge basque
If you want to know what the new face of the French hospitality industry looks like, this is where you should come. Auberge Basque harkens back to the time when hosts were thoughtful, unaffected, and genuinely happy to receive you. Cédric Bechade (formerly of Bocuse and Ducasse) has come here to give free reign to his passions, side by side with an exceptional sommelier, Samuel, and a young staff overflowing with enthusiasm and dedicated to their profession.
Lovely rooms, in both contemporary and classic styles, and remarkable cuisine that's a welcome change from genteel, stuffy gastronomy: here there are only fresh regional products and an élan marked by refreshing creativity. The cuisine is playful, precise, vigorous, colorful….and there's plenty of it. If you go, you'll notice that the attention to detail extends even to the bread. It comes from the Boulangerie Darrigues. While not the prettiest bakery in the village, it's the best, especially the gateau basque, excellent bread, brioches with raisins and nuts. An impressive wine list and, overall, throughout the hotel a scrupulousness that ensures everything is just right.
Auberge basque : Saint Pee sur Nivelle. Tel.: +33 5.59.51.70.50.
___________________________________________
Paris : Le 21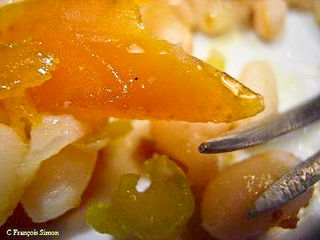 Certain Parisian restaurants seek obscurity, prefer that we don't talk about them. Often these places have excellent chefs. They work and invent in a spirit of generosity. 21, with its fish specialities, is such a restaurant.
You find on the daily chalkboard selections that are lucid, straightforward, and sometimes surprising, like the shrimp served with pasta. And it turned out to be excellent ! A dish that's just spot on, and truly copious. What else do we want from our cuisine ? Nothing.
Just one catch - referreing to the bill as "the damage" is entirely apt at le 21. It's pricey. But all the same, it's good, even very good. One of the best addresses in Saint Germain, and even all of Paris.
Le 21 : 21 rue Mazarine Paris VIe. Tel.: 01 46 33 76 90 Around 75 €.
______________________________________________
Paris : Le Baratin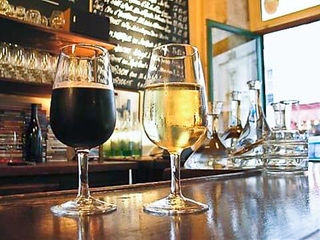 Frankly, I'm not sure it's the best idea to share this one with you.
A former wine bar that's become one of the go-to places for Parisian "bistronomie," this place is quite simply one of my favorites in Paris. The cuisine of Raquel (a self-taught Argentine who's been slinging hash for 20 years) is marked by a biblical simplicity, insolent in its goodness, naked and scrumptious.
Strangely, all the gourmands of Paris come here, including some of the biggest names in French gastronomy, to dine on the braised ox tail with citrus fruits, the cod and shrimp stew with saffron, the marinated sardines, desserts to die for, excellent wines by the glass selected by an enthusiast associated with the restaurant. Among those places for the truly food-crazed, Baratin finishes in the top three. Unbeatable.
But be careful; make sure you go prepared for a lively atmosphere and the decibel level that goes with it.

Le Baratin. 3, rue Jouye-Rouve, 20th arrondissement. Tél. : 01 43 49 39 70. Every day except Saturday for lunch, Sunday and Monday. Prix fixe: 15 eur (lunch) Menu : 35-40 euros. Map Photo/dr
_____________________________________________
Paris : The Voltaire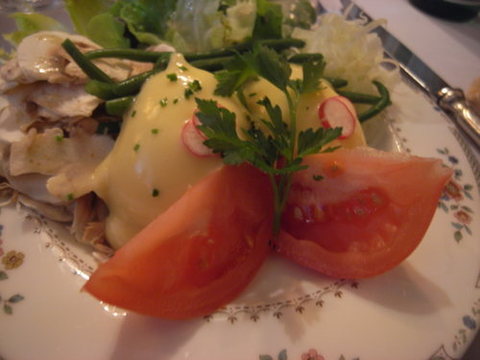 What's incredible about this place is the price of the devilled eggs. Eighty cents - whereas in the rest of the menu the prices club you over the head. The reason is simple – the adherence of the Voltaire to immutable prices. Some time ago the price was 5 francs and some dust. The prices are never adjusted. A kind of amused, contemptuous elegance.
Nevertheless, the egg doesn't come crumbled with a half-leaf of lettuce. Rather, it's a veritable Opéra Bouffe, with salad, de-leaved vegetables, the egg of course (well done), with the spread slathered over it – disarming generosity.
Which is what characterizes the Voltaire. Now, logically, one doesn't order desert at the Voltaire. The portions here aren't for squirrels, but for butchers. But, of course, our investigation had to be as thorough as possible. The result was predictable – the chocolate profiteroles (17.50 euros – bam!) fell on us like a ton of bricks.
Le Voltaire, 27, quai Voltaire, 75007 Paris. Tel : +33 1 42 61 17 Map
(Photo F.Simon)
_____________________________________________
Le Jeu de Quille (Paris)
Here's one place that shouldn't be left to the dogs.
Le Jeu de Quilles proposes cuisine that doesn't make a make a spectacle of itself. Three or four tables that can accommodate about 20 clients, two nice waiters that serve unpretentious food characterized by abundance and quality (meats from neighbor Hugo Desnoyer!).
And the wines are chosen with care.
At Jeu de Quilles you'll discover new textures and flavors, and when you leave you're sure to be in a good mood. And the price is absolutely fair. I left a 10 euro tip I was so happy! My verdict: one of the best places in Paris at the moment.
Le Jeu de Quilles : 45, rue Boulard, 75014. Tel : +33 1 53 90 76 22, Métro Mouton Duvernet. Map
(photo F.Simon)
_____________________________________________
Mirazur (French riviera)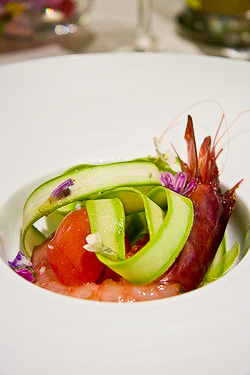 By Here there's a chef, a real one - Mauro Colagreco, an Italian born in Argentina, who's worked with many of the big names (Loiseau, Ducasse, Martin and especially Passard). He turns out a cuisine of remarkable vivacity inspired by the Riviera, the ingredients bursting with flavor.
His cuisine is astonishingly limpid, clever, and marked by a certain earthiness. Colagreco is making his mark as a reference for the new generation. With his garden, his citrus plants, and the flowers that he uses for more than decoration, he leads you into unknown territory where, strangely, you find the shadows of your memories. Modernity with roots in the soil.
Mirazur : 30, Avenue Aristide Briand - 06500 Menton - +33 (0) 4.92.41.86.86 - [email protected]. Tasting menu from 55 euros. Map Web