Surely there must be a craze for terraces. A sort of ideal life. Where the world would march past in front of you, charming, droll, sexy, absent. Paris, in this genre, is a world champion.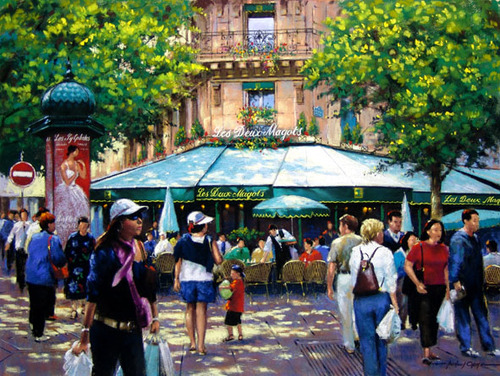 Just sit down at a terrace in Saint Germain des Prés and you will understand. Allow yourself ten minutes of this heady, sweet and sensuous honey, the one you can afford for a slice of lemon.
This shapely summer should be a continual flow of exciting silhouettes and should help the most world weary eyes sparkle.There is a choice. Personally, I have no religion. Some people think that it's Café de Flore forever (really ?), and disdain foolishly les Deux Magots (the interior is very piquant though), forget the Bonaparte, recommend the Café de la Mairie. Bah…There is no exact science.
We know it, terrace foods would prefer not to be considered. We can even wonder if they wish to be ordered. They are absent, apathetic, with the mind already far from here. They are so kind that they accept that we leave them. The self-sacrifice of these foods is remarkable. The stomach quickly understands that it's playtime so it asks for anything : two fried eggs, a cappucino and a salad. This one came with chicken cuts and other quiet accompaniments.
The terrace salad, well placed in its bowl, ready for the tempest, not stupid.
Concerning the price, what can be said. One should not watch too closely : a cappuccino for 6.50 €, a salad for 13€, ten years ago we would have jumped up furiously; today everything flies away : the barrel, the dill and the skirts.
Les Deux Magots, 6 place Saint Germain Tel : 01.45.48.55.25 – Constantly open
PHOTO / LUNCH AT LES DEUX MAGOTS ANTHONY ORME