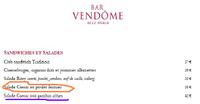 Contrary to what we are led to believe, César Salad has nothing to do with César Ritz. But it was too late, the booking had already been made at the Vendôme Bar of the Ritz Hotel. Although legends have good excuses, they sometimes need to be questioned.
The César Salad was a long time coming. Perhaps it came from far away through the basements of the hotel. Almost one subway station between the bar and the entrails. Or maybe, she had her soul somewhere else, her mind more concerned by other accounts, either way she took her time. And that must be why she arrived exhausted. Which for a salad is regrettable. Her extremities were a little aged, which is just like having some dirt under one's nails. It'a style of sorts, but logically not that of salads, certainly not the one we looked for. Especially if she wants to join the top of the crop. She is in strips, which is also a certain style, but not the César's.
In a word, she drifts in her definition. She meanders.
The waiters, just like the salad, had a certain absent mindedness (thinking of holidays, tips or shopping for dinner). They make mistakes with basic orders (plain water instead of sparkling water), but they have the superb haughtiness of mafiosi only with coffee stained jackets
Concerning the price, when we see tarts with raspberries costing 27€, the César salad drives comfortably at breakneck speed. Then is it necessary to come ? Of course yes, it is the Titanic on live…
Bar Vendôme, Hôtel Ritz, 15 Place Vendôme (1er) – Tel : 01.43.16.30.80 – Every day