Brittany today ? A real big bazaar ! It's about time. She was asleep, still dreaming, quite indifferent. Just like a good old dog near the fireplace. The external world reinforced it in this feeling. She watched the stars speeding along with the sneering tiredness of martyr saints.
There had been Paineau, in Questembert, who tried to rebel, to attack and make a stand. But it was written in the genes of this modest country that she should wait with this holy exasperation. Fortunately came Roellinger. Three stars coming shamefully late, it was enough to have get the message across. Brittany could then exist, move on and keep its original celtic pride.
<
Today, there are changes in every way. Sometimes they are glorious and dynamic, other times we have the feeling of being anywhere with anything (mimetism is a slave). But, in the main, what is new in the West, is this unexpected good mood. Bretons were supposed to be a bit taciturn. This is false, they are very happy to live, with clear ideas. It's very simple, now, everywhere in Brittany, we eat well, we laugh, we enjoy. Here are a few good addresses sculpted in the standing stones.
And others tomorrow and again the day after tomorrow. Is this ok for you ?
(Picture : Eric Guerin)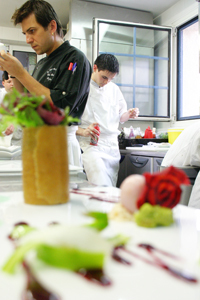 La Mare aux Oiseaux
Injustice reinforces innocence. The real blunder of the 2008 Michelin Guide, is to have taken away the star to this highly worthwhile place. Eric Guérin (see photo) cooks with noble brightness, connected with high class regionalism and a light and playful modernity. One of the great surprises of this trip. The menu starts at 38 euros. There are ten bedrooms available to continue the pleasure from 130 to 160 euros.
Ile de Fedrun - 44720 Saint Joachin - Tel : 02.40.88.53.01
Le Coquillage
Ok, we harass you with this address, but this is a great place to shout about, overflowing with goodness. True Breton cooking in a magnificent setting. You can't find better. Menus at 29 euros and 56 euros.
Route du Mont Saint Michel - 35350 Saint-Meloir-des-Ondes - Tel : 02.99.89.25.25
Youpala
Bistrot Lunching in a place bustling with huge groups of work colleagues can normally spoil a restaurant. Not in this case, it would take more to disturb Jean-Marie Baudic's enthusiasm. He makes, to be exact, popular, creative and playful food. One of the most dynamic adresses in Brittany.
Formulas for lunch starts at 12 euros. Menu around 45 euros.
5, rue Palasne de Champeaux – 22000 Saint-Brieuc - Tel : 02.96.94.50.74