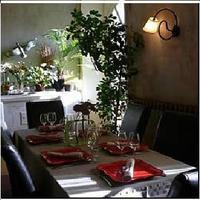 Sometimes, a place may catch you unawares.That is in fact what we expect from gastronomy. Getting seduced, being trapped, to let it go. It was early May.
When we booked at the Cigale égarée (lost Cicada) in Quimperlé. You're going to quibble about lots of small details, but sometimes we must forget the fuss of modern cooking : deconstruction, defragmentation. With a bit of heart, you manage to locate a feeling. Here, it flutters almost everywhere among the minicreations, such as a soup of peas with mint, fried andouille (sausages made with chitterlings); then it appears in a (true) meal like the roasted pork with red pepper sorbet. The meal continued with some nicely made languid desserts : crème brûlée, fondant au chocolat. Always in small portions. We'll have to get used to it, reshape this "freely expressed" version of cooking. I agree with you, it's not funny, but it's so. When we left, we faced a joyous rain shower (the talent of Brittany).We welcomed it with this kind of inexplicable felicity of the rare moments.
La Cigale égarée – Trevoazec Villeneuve Braouic – 29300 Quimperlé Menus start at 21 euros (lunch). Closed on Sundays and Mondays and (sometimes) during bank holidays Tel : 02.98.39.15.53.