QUIBERON
By Joe Ray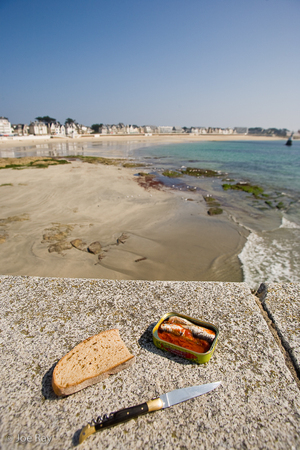 After three and a half hours on an early train from Paris and another hour on the bus, the idea of sitting around tourists and retirees in a restaurant didn't really float my boat. Returning from a meeting to set up an outing with a gooseneck barnacle fisherman, I walked right in front of the solution: La Belle-Iloise cannery.
Five minutes and a six-can variety pack of sardines later – everything from the little silver fish marinated in muscadet to two peppers, olive oil and lemon – I was in business. Sitting on the seawall, I ate a tin of sardine à la tomate served on pain Poilâne that I smuggled from Paris. Though there's a fierce debate as to whether La Belle-Iloise or La Quiberonnaise makes the better sardine it didn't seem to matter; in the space of five minutes, three people walked by jealously eyeing my picnic and smiling. One guy even offered up a "Bon Appetit!"
On the bus, I had listened to an interview with Alice Waters who extolled the virtues of both cooking and eating with friends, yet here I was, straddling the seawall myself, getting a sense of place from a can.
Joe Ray is the author of the blog, Eating The Motherland and contributes to the Boston Globe's Travel blog, Globe-Trotting