Barcelona, Spain
By Joe Ray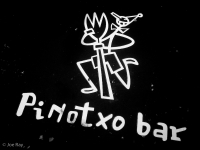 It is a sublime pleasure to realize that you're in the middle of one the best moments of your life.
Last week over lunch at the Pinotxo food kiosk at Barcelona's Boqueria market, I smiled so much that I hit a point where I couldn't speak.
It happened like this…A very good friend and I sat at a pair of Pinotxo's stools with three years of catching up to do. Beer and Cava are ordered. I recall the time where I spent a day shooting pictures for a story, wedged behind the bar in the galley kitchen and of the incredible meals I've eaten here.
Mushrooms appear, wading in an elixir of olive oil, vinegar, garlic and goodness, dusted with big flakes of salt. Did we order those? Is that important? I take a bite and my right leg starts jiggling.
Razor clams show up next, cooked a la plancha (think: screaming hot greaseless griddle), garnished with nothing and drizzled with olive oil that mingles with their liquor, followed by a plate of clams that are cousins of those at Cal Pep.
A roaring crowd mills through the market, and we talk about life, love, family, tragedy and happiness: the floodgates of three years of busy lives in different places burst out onto the bar. The axis of the world shifts to the center point between our stools and our plates.
My favorite Pinotxo dish arrives – baby squid known as xipirones sautéed with tiny white beans. Along with the drizzle of olive oil and sprinkle of salt, there's a swirl of a balsamic glaze that sharpens flavors and adds subtle sweetness. My left leg starts jiggling, independent of its neighbor.
More Cava, more connecting. I can't stop smiling. If food can bring you to a higher place, I don't know what that is.
Take all the three-star restaurants and elaborate presentations you want, this is purity in many forms - the center of the universe.
Pinotxo – Mercat San Josep – "La Boqueria" – La Rambla 91 – Barcelona, SPAIN
MAP
Food and travel writer and photographer Joe Ray is the author of the blog Eating The Motherland and contributes to The Boston Globe's travel blog, Globe-trotting.