Paris,
By Joe Ray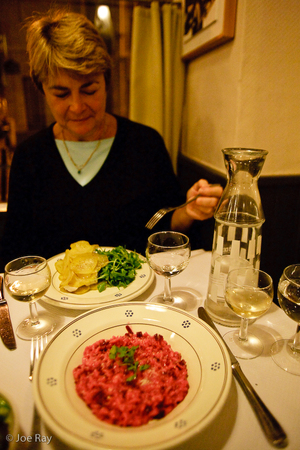 A restaurant is always doing well if a mother and son dining in their premises feel comfortable enough to have a conversation about French infidelity habits. This happens to Mom and I at La Table De Claire, a place I've been curious about for months, thanks to its obscure location, curious wife chef-swapping habits and deceptively simple-sounding menu.
Hidden away on rue Emile-Lepeu in the 11th, the restaurant has a growing reputation for bringing guest chefs in once a month and giving them carte blanche to do what they will along with giving the sous chef free reign two nights a week (note to struggling restaurant owners: great way to keep local clients interested!).
Product quality is the guide here, yielding short and occasionally cute dish names; La Table's magic is getting the flavors to marry. "Fish, scales and rocket" uses thin potato 'scales' to surround the fish and gently absorb its sea and salty goodness. Beet and walnut risotto is something that would keep you coming back to a lover who cooked it. A rutabaga and foie gras appetizer sounds a bit gimmicky, but the tuber, sliced in rounds and lightly sautéed soaks up everything that's good about goose liver.
The only problem is the rocket, sitting as a simple salad next to mom's fish.
"Tastes like every dandelion I've ever picked in my life," says the gardener, voicing a distaste for the greens I haven't inherited as she nibbles on a frond.
"Damn things…" she mutters.
"More for me," I say, taking advantage of her distracted state to swap plates with her.
Somewhere in there, we have a bottle of white, Claire's list augmented by a revolving selection on blackboards with clever red or white frames. Mirroring the dining menu's gracious restraint, no bottle appears to climb above 30€.
Aided by the latter, I explain to Mom the cinq à sept – the delicately named "five to seven" or post-work time reserved for affairs.
Me: From there, there's an apéro and after that, dinner.
Mom: And that's every night?
Me: If they're doing well
For dessert, mom orders a near-perfect crème brulée with a beautiful chestnut confît bulging above the surface in the center. For reasons I struggle to understand, Mom doesn't like the nut but loves everything around it.
Me: This is worth coming back for.
Mom: Just leave the nut out.
La Table de Claire : 30, rue Emile-Lepeu 75011 Paris latabledeclaire@wanadoo.fr
TEL : +33.1.43.70.59.84  Closed Sunday
Food and travel writer and photographer Joe Ray is the author of the blog Eating The Motherland and contributes to The Boston Globe's travel blog, Globe-trotting.