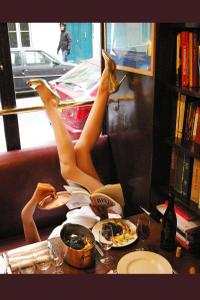 One of my favorite places.  A place for lovers of fine food, bold, with a wine list that's eye-popping. 
At Paul Bert, meat is served extremely rare, rare or…. badly cooked. Humor is part of this cuisine, cuisine that's worthy of a great restaurant, but it stays simple.  The dishes are vibrant, with plenty of energy, like those scallops served in a buttery jus.
They're firm, sweet, and served in their salty element.  I remember a Paris-Brest that was just perfect, the crust just as it should be.  They approach perfection here in terms of the quality of their products.
The ambiance is Parisian, the clientele is happy to be there – and so, a bit noisy – you're going to love it.  Ask to be seated in the first room.  And count on at least 50 euros.
Le Paul Bert. 18, rue Paul Bert. Tel 01.43.72.24.01). Closed Sunday and Monday. Map
Photo : 3MyR