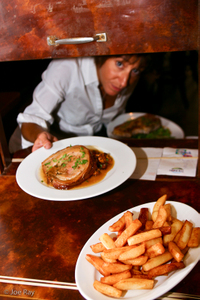 Paris,
By Joe Ray 
I've been lucky enough to go to the Bistrot Paul Bert twice in the past month or so. Simon Says' namesake and I have a fondness for this place to the point where it's surprising we haven't bumped into each other.
Truth be told, the last couple of times have been… ok. Perhaps both the chef and I have been a bit too game for game. I had a partridge dish which I liked principally because it had some buckshot in it and lievre à la royale (hare with foie gras and a deep-colored wine sauce) that left me, if we call a spade a spade, with a lot of connective tissue on my plate.
BUT! There have been plenty of reminders why I love this place: particularly a heaping dish of tiny, fried sardines which must have taken advantage of the P-B's husband and wife team which also runs the neighboring seafood specialist, L'Ecallier du Bistrot. The only way to win with a dish like this is to hit it out of the park; nothing leaves a worse impression than bad fish.
I love a place that's got the confidence in itself and its customers to serve a 'low' fish… which is why I'll keep going back.
Bistrot Paul Bert 18, rue Paul Bert 75011 Paris Tel : 33.1.43.72.24.01
Noon-2 p.m. and 7:30 p.m.-11 p.m. Closed Sunday and Monday Map
Food and travel writer and photographer Joe Ray is the author of the blog Eating The Motherland and contributes to The Boston Globe's travel blog, Globe-trotting
Photo : JoeRay