By Joe Ray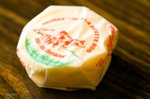 Normally, I'm a salted butter man. The other night, however, I made an exception at a birthday party held at Nono in Belleville. I arrived when dinner was about to be cleared away, but immediately noticed bowls of little wax paper-wrapped butter packets marked with the word 'cru' – literally, 'raw' or, in this case, unpasteurized.
Without even checking to see if the coast was clear, I grabbed a handful and plunged them into my large coat pocket normally reserved for recently-downed game birds. All in the name of science, of course.
Curiously, I'd been making my way through a set of articles about butter in an old copy Saveur magazine, secure in the idea that though it all sounded good, I'd forever be a devotee to beurre demi-sel – tasty butter with big flecks of salt that go 'bing!' in your mouth like Pop Rocks.
At the end of my third piece of toast this morning, the coffee kicked in and the butter – sans sel – let me know what I had been missing. For you, gentle reader, I made more toast.
The butter, still unmelted, starts as cool comfort, curious as it's exactly freezing in Paris this morning. I feel it melt and coat my tongue and the toast's heat releases its creamy flavors and promotes a gentle sweetness that lingers so long, a wine would blush with embarrassment.
Note: the picture above is the last butter packet that I haven't devoured – I just noticed this one is both raw and salted. I might explode.
Nono : 43, rue de Tourtille  75020 PARIS +33 1 43 49 37 79 Map
Food and travel writer and photographer Joe Ray is the author of the blog Eating The Motherland and contributes to The Boston Globe's travel blog, Globe-trotting.