Paris,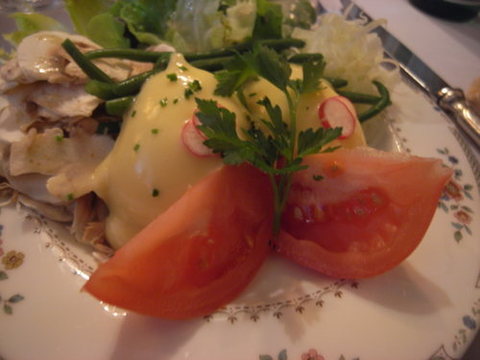 What's incredible about this place is the price of the devilled eggs. Eighty cents - whereas in the rest of the menu the prices club you over the head.   The reason is simple – the adherence of the Voltaire to immutable prices.  Some time ago the price was 5 francs and some dust.  The prices are never adjusted.  A kind of amused, contemptuous elegance.
Nevertheless, the egg doesn't come crumbled with a half-leaf of lettuce.  Rather, it's a veritable Opéra Bouffe, with salad, de-leaved vegetables, the egg of course (well done), with the spread slathered over it – disarming generosity. 
Which is what characterizes the Voltaire.  Now, logically, one doesn't order desert at the Voltaire.  The portions here aren't for squirrels, but for butchers.  But, of course, our investigation had to be as thorough as possible.  The result was predictable – the chocolate profiteroles (17.50 euros – bam!) fell on us like a ton of bricks.
Le Voltaire, 27, quai Voltaire, 75007 Paris. Tel : +33 1 42 61 17 Map
(Photo F.Simon)