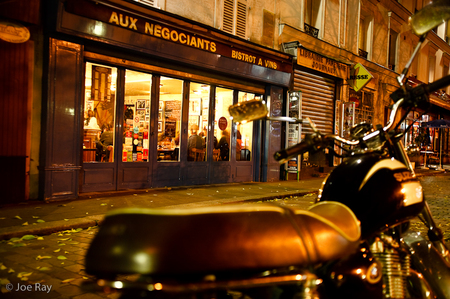 Paris,
By Joe Ray 
Why do I keep coming back to this place? Beautiful and flawed, Aux Negociants is still one of those places (like Au Reve across the street) that's the perfect place to come when you get off the plane for a fast dose of Parisian Paris.
One of the most glaring idiosyncrasies is the chef. What's he doing in the front of the house at suppertime? Shouldn't he be out back cooking our dinners?
Instead, he seems to have come up with a menu that allows him to spend most of the service time at dinner out at the bar shooting the breeze with his pétanque buddies or time to get mad at me for sending the wine back.
There's stuffed cabbage, saucisse de Montbeliard, confît de canard - all stuff that you either make ahead of time and/or just heat up… I can't tell if I'm miffed that he isn't out back doting on my food or impressed at the preparation that goes into it.
In any case, the food's good and there's the friendly crowd, good wine and that funny feeling that I want to come back again.
Aux Negociants 27 rue Lambert +33.1.46.06.15.11 Map
Food and travel writer and photographer Joe Ray is the author of the blog Eating The Motherland and contributes to The Boston Globe's travel blog, Globe-trotting.