Paris
By Joe Ray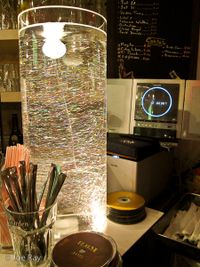 There are times that I can just wince at a high price others where I just balk.
The other day, I balked.
I met a friend to catch up over a beer in the center of Paris at the bar, Le Montorgueil on the street of the same name. The bar has a great location on a trendy street but a is a dive, complete with a circular Plexiglas aquarium-like thing with swirling glitter on the bar.
We caught up, decided to move on and I went to the bar to pay for a pint and a demi (25 cl draft) of the cheap stuff. "Thirteen twenty," said the barman, the euro equivalent of more than seventeen bucks. I stared blankly. My eyes started to do that top-left, top-right, while-I do-the-math thing, but with nothing adding up, they went blank again.
 "Thirteen twenty," repeated the barman. Saying nothing, I went over to verify on the little board with the drink prices. Sure enough. My friend had come over by this point to see what was taking so long.
 
"Thirteen twenty," I told him. He turned directly to the barman and without hesitating said, "I'm sorry, sir, but that's absurd." I agree. I get the part about paying for the trendy location.
I realize the prices are posted for everyone to see, but give me a break. I'd later bump into a Parisian friend who had the same experience, noting their drinks cost what I'd roughly translate as "the skin off of our rear ends".

" Thirteen euros" is over 17 bucks and there are places where I'll just wince at a price like that – the big, beautiful and similarly priced Café Beaubourg, right down the street, for example.
Here, however, it's absurd.
Food and travel writer and photographer Joe Ray is the author of the blog Eating The Motherland and contributes to The Boston Globe's travel blog, Globe-trotting