By Joe Ray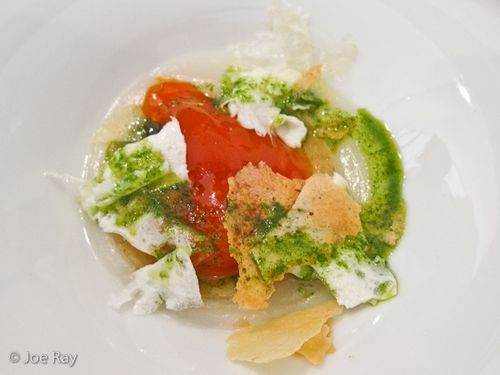 Carlo Cracco is onstage at Girona's Forum Gastronomic (www.forumgirona.com) holding a deep orangish-red egg yolk in his plastic-gloved hand. He squeezes it, pokes it, talks about it and instead of turning into a gooey mess that drizzles unflatteringly down his arm, it holds firm.
The yolk is part of his 'marinated egg yolk with light Parmesan cream' – a deconstructed egg yolk that is one of the Italian's signature dishes at his eponymous restaurant in Milan. It's a play on textures and preconceptions, a chef having thought-out fun.
Marinated?
Yes. For four or five hours, each yolk in a tin cupcake cup with a mixture of salt, sugar and bean flour that sucks much of the moisture from the yolk, leaving it like putty in his hands.
"Up to now, everyone pushed limits," he tells me later, referring to the long burst of creativity and science that's been coming out of high-end kitchens. "Now, we need to slow down and look at what's worth it and what's not."
I can't help but wonder what the controversial  chef does with all of the extra egg yolks at the end of the day and curiously, he devotes much of the rest of the demonstration to just that.
With most of the liquid pulled from the yolk, he mashes a few of them together creating a thick, bright paste that looks like it's been pimped from his pastry chef. This he spreads between two sheets of oiled wax paper and rolls flat into a translucent pasta that practically glows orange. He runs half the sheet through a pasta machine that turns it into thin noodles which he suggests heating for a minute and serving with a tomato sauce. The other half becomes meat ravioli that look as delicate as a Pierre Herme macaron. This, he serves raw – a mini steak tartare encased in its yolk.
This is worth it.
Food and travel writer and photographer Joe Ray is the author of the blog
Eating The Motherland
and contributes to The Boston Globe's travel blog,
Globe-trotting