Luberon,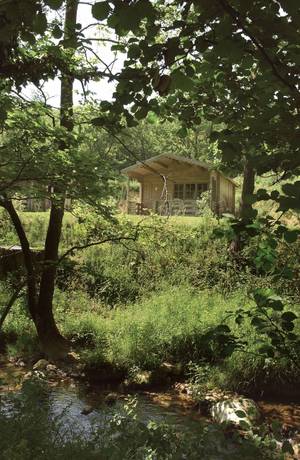 Nothing compares to a second impression.
I'd stayed at this inn for the first time in the spring.  The poppies reddened the prairies of the Luberon and the light, which has such a special quality in this region, sang over the cool river.  The place was simply sublime.  It was Provence in all its bucolic perfection, the scent of thyme, wild orchids, a gentle breeze passing through the trees, lavender….
I came back at the end of the summer.  The hot stones of the tables on the terrace, where L'Auberge de l'Aiguebrun serves salads with vegetables freshly picked from their garden, had only added a few days of intense sun to what was already a century of existence.  The service, showing a bit of fatigue after the tourist season, was a bit spotty in responding to my requests.  But that's alright.  The olive oil was perfect, the tomatoes juicy, the bread golden and delicious.
Flowing by just a few steps from the terrace of the cozy wooden cabana that I'd chosen, the river brought with it a freshness that I had been longing for.  It was perfect.  Time could have stopped.  Far from the world, I spent my afternoon reading a book by Jean Giono, serenaded by the voice of the chef, Francis Motta, energetically overseeing the preparation of the Provencal beef stew for that evening.
Go see for yourself why a supreme comfort is to be found in this old house built in 1890, once a post house and also at one point owned by the filmmaker Agnès Varda.  And in addition, you'll find some beautiful Provencal antiques, homemade jams at breakfast, the right to poke your nose into the kitchen to see what the chef is making (excellent, inventive gourmet Provencal cuisine), everything you need for a nearly perfect idyll, at less than five kilometers from Bonnieux and only a short distance from one of the most beautiful hilltop villages in France.
L'Auberge de l'Aiguerbun.  From 140 euros for a double room.  The property can be found off Route Départementale 943.  Tel +33 4.90.04.47.00. Web  Map