Paris,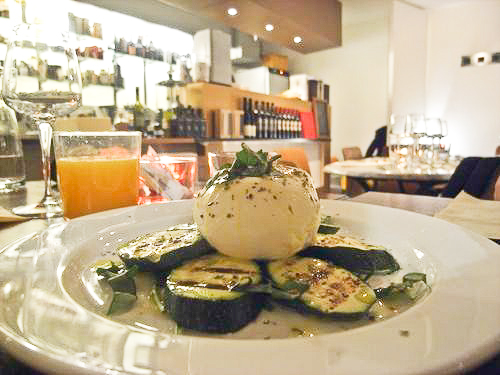 You're gonna like this one.  If I lived in the neighborhood, I'd keep my own personal napkin ring there (Translator's note: refers to a now rarely-observed tradition in French restaurants whereby regulars would keep a personal napkin or napkin ring at the establishment, often in little cubby holes along the wall).  Delicious, warm and welcoming, here's a place that will make you love restaurants again. Take note – it's not big (it barely seats 15), but in return what a wonderful experience: lamb shoulder with carrots, with the shoulder delicately cooked; the carrots and a few onions accompanying the lamb, and a sauce that doesn't overwhelm.  Indeed, it's sufficient to respect a dish, to avoid hounding it, pestering it by adding all sorts of bells and whistles - no, you have to let it express itself, find its own path; what good does it do to interfere?  To over-embellish recipes is nothing but vanity. 
For an appetizer, mozzarella with translucent eggplant.  Frederica and Fabrizio watch over their clients out of the corners of their eyes.  When the lamb shoulder arrives, from off to the side comes the proposal, "You wouldn't like a little chervil with that?" And bam, just like that a little saucer of freshly-cut chervil appears. 
Count on less than 30 euros per person.
Caffé dei Cioppi, 159, rue du faubourg Saint Antoine, 75011 Paris (01.43.46.10.14). Closed Saturday and Sunday, as well as Monday and Tuesday nights.Map