By Mara Grimm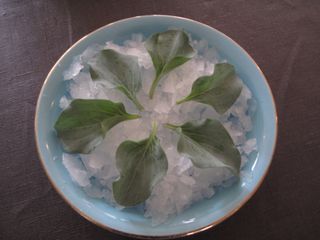 Is it an herb? Is it a drug? Or is it the newest molecular gimmick? When I first tried one of these thick but perfectly smooth leaves at a party last month I wasn't quite sure what to think because, quite surprisingly, it tasted exactly like an oyster. Happily, I was not the only one thinking this was too good to be true.
Ferran Adrià from El Bulli (***Rosas, Spain) told me that he serves these so called Oyster Leaves with two pearls of vinaigrette on top, and his guests are so surprised by the taste they think Ferran has come up with a new trick once again. The opposite is true.
The Oyster Leaf is all natural. It has its origin in the Hebrides, North-Scotland, but is now grown by Koppert Cress, a Dutch company that specializes in micro-vegetables. At first, owner Rob Baan grew the leaves exclusively for El Bulli, but he's decided it's now time for the rest of the world to share in the joy of eating vegetarian oysters.
Serve them as Ferran does, or as I did last night: on crushed ice with bread, butter and a glass of Chablis. Miss the feeling of a real oyster gently sliding down your throat? Then get some real oysters instead and use the leaves thinly sliced in fish dishes or, since it's the season, on asparagus.
Check out www.koppertcress.nl for more.
Mara Grimm is the editor of Holland's biggest restaurant guide: Lekker. She also writes about new restaurants, shops and culinary trends in Delicious Magazine and has a monthly column on kids and food.