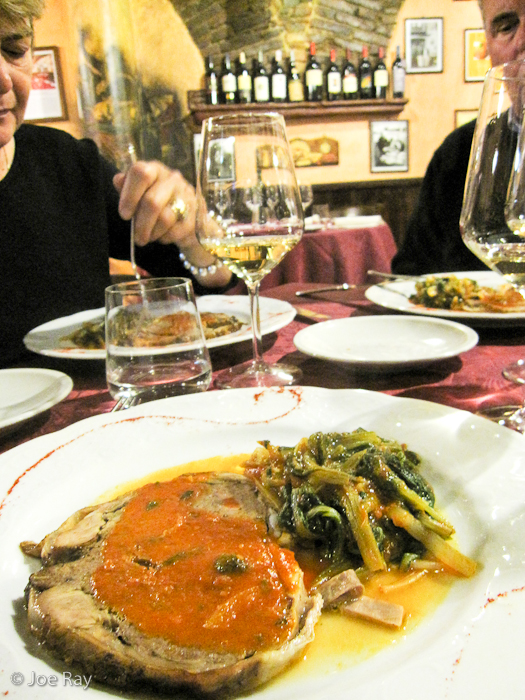 CASTELBUONO, SICILY

PRELUDE

Driving through Sicily, Mom asks if there are many foxes roaming the island – a question completely out of left field, and as likely a subject as if she had a sudden interest in stock quotes.

FOOD

Dinner at Nangalarruni in Castelbuono is a snapshot of Sicilian cuisine. A starter salad of blood oranges and pearl onions is served with thin slices of tobacco-smoked pork, sprinkled with salt flakes and dappled with olive oil and deeply-flavored musto cotto from 1987. The dish shows a native love for sweet and savory, reverence for history and an inventive playfulness. Much of that can also be seen in the following course - a bread pie served next to a big, comma-shaped swirl of ricotta cream.

It's at this point in the meal where chef Peppino Carollo, who I've blogged and written about, sits down one table away to have dinner with his brother on a quiet Monday night. Staying undercover would have been nearly impossible, not to mention really awkward. Besides, it's hard to braise a wild boar shank (our next course) in 10 minutes.

Instead, we talk. The brother is in town from Rome to hunt mushrooms with Chef in the hills above town – Nangalarruni may mean 'jew's harp' but the restaurant is a mushroom-lover's heaven and the walls here are covered with paintings of fungi and pictures of Chef and friends after successful mushroom hunts.

Who's manning the kitchen while chef is having dinner with his brother?

"He's young," Chef says of sous-chef Giandomenico Lammonica, but it's not hard to understand why he is Carollo's right-hand man – Lammonica has a mushroom farm above town that he tends to as a hobby.

A several-course tasting meal at Nangalarruni is a bargain at 30 euros and the great wine list has gentle prices, perhaps owing a bit to Chef's wife running two small wine shops in town.

FULL CIRCLE

Walking back after a late-night stroll through town, a fox appears in front of our door.

…

When in Castelbuono, stay at the Casa Ilaria B&B. It's hidden, quiet, beautiful, spacious and run by gracious owners. It's also a steal at 30 euros per person per night.

Nangalarruni MAP
Via delle Confraternite, 5/7
Castelbuono
+39 0921 671428
www.hostarianangalarruni.it

Casa Ilaria
Piazza Tenente Schicchi, 5
Castelbuono
+39 0921 676268
http://www.casailaria.it/
Food and travel writer and photographer Joe Ray is the author of the blog Eating The Motherland and contributes to The Boston Globe's travel blog, Globe-trotting.