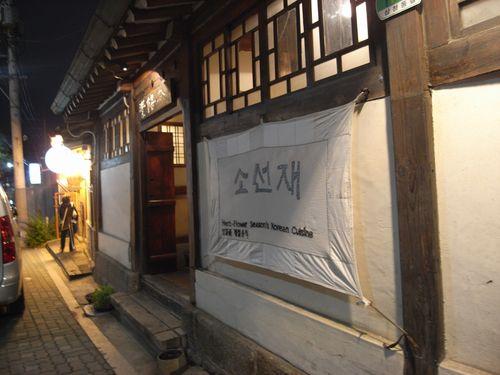 I found you another good one: fixed-price menu at 15 euros.  A little feast with in-season herbs and flowers, served in a home-like atmosphere that encourages you to let down your guard. 
 
Seven rounds that offered yet more proof that this is a cuisine that speaks as much to one's head as to one's stomach and body.  For me, it's clear that Korean cuisine is among those that will soon be leading us around by the nose.  Like with Vietnamese cuisine, you've just got to find the right place, and then you're all set!
 
Tel: 02 730.7002. Chongno-gu...
In fact, I'm giving up on providing you with the exact addresses.  It's an absolute nightmare to get around in Seoul.  Addresses are useless (even the taxi drivers wind up looking silly) and there are traffic jams everywhere.