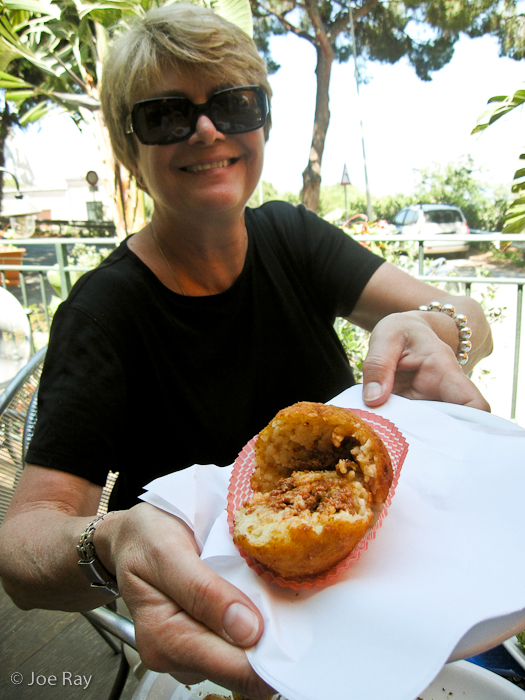 By Joe Ray
CEFALÙ, Sicily – Baseball wisdom advises against swinging at the first pitch. See what they've got, and work the pitcher for something you can turn into a hit.
Driving into Cefalù, I had a restaurant I'd tried before and a couple new recommendations on where to eat written on a scrap of paper in my pocket.
It was also Time To Eat, and pulling into the back side of town, we saw a roadside tavola calda (think buffet, but good) with a nice deck, sun and shade, ficus and palms.
God knows how much time I've frittered away tracking down a lead or looking for that next good spot when a place like this presented itself, but here, I didn't even ask – I just pulled into a parking spot.
It didn't look like much on the inside, but that didn't matter on the deck, where, once you had ordered, runners in gas-station style green and blue jumpsuits and white caps hustled orders out to the tables.
Everything was tasty – a seafood and vegetable salad, great roast potatoes with rosemary goodness and good, local-style arancini – stuffed and breaded rice balls that make a quick meal on their own. 'Local-style' apparently means that they don't have a red sauce in with the filling and mom asks me to get some.
My Italian can be painfully bad, but despite a passable attempt for the desired sugo, the waiter looks at me with the blankest of faces.
I re-explain, stressing the maternal need and appealing to his inner momma's boy. He sweetly replies that though they don't do it like that in these parts, he'll get some.
Long enough time elapses to think he's forgotten, but right when we're wrapping up, he reappears with a piping hot, custom-made arancini in his hands.
"For mamma," he says. "A regalo."
A gift.
A home run.
Food and travel writer and photographer Joe Ray is the author of the blog Eating The Motherland and contributes to The Boston Globe's travel blog, Globe-trotting.