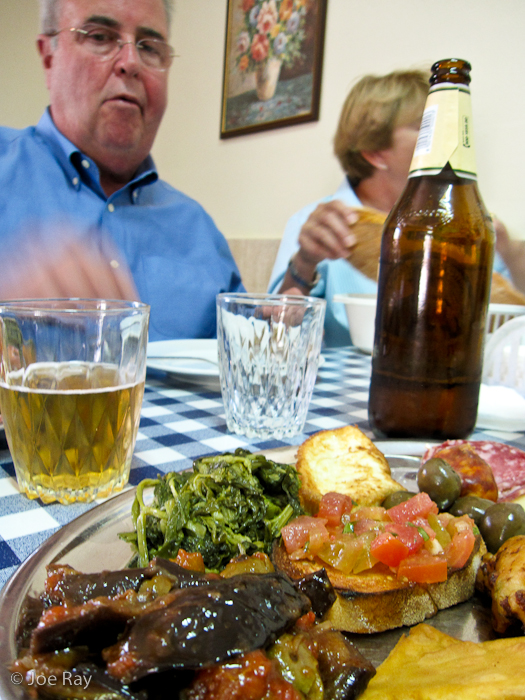 By Joe Ray
PALERMO - Dad can be very good at bonding with the locals. His eyes might glaze over with a museum guide or, say, me when I get going about food, but give him someone salty in a tweed cap or a tour bus driver and in five minutes, they'll be sharing a bag of sunflower seeds with Dad telling the joke about the drunk twins from the County Cork.
In Palermo, this happens with Sicily guide Jean Paul Barreaud, the man who introduced me to pastry chef and gelato god, Santi Pallazzolo, and spoke my favorite Motherland quote: "Sicilians eat like ogres."
Their bonding subject was instant: Palermo traffic.
"I like your car Jean-Paul, are those claw marks on the bumper?" Asked Dad.
"The only pedestrians with untouchable rights are pregnant women," replied Barreaud, not skipping a beat. "Everyone else is fair game."
I couldn't tell if Dad, a true road warrior, was terrified or agog in admiration for the Palermitans, but I can say that he never took the wheel and after returning home, he wrote a lengthy email thanking me for driving.
Barreaud brought us to U Zù Caliddu, a former smuggler's safe house in the hills above Palermo run by a sprawling family that includes a grandmother in the kitchen and a four year old playing soccer in a Spider Man costume in the dining room.
There's a 15-euro fixed-price menu that could put even the hungriest ogre under the table, but it's also a great way to get a handle on family-style Sicilian. The antipasto includes great examples of the sweet and sour caponata, roasted ricotta and a pizza cousin called 'old man's face' – a square and thick pie with a cheese-laden red sauce that Dad promptly got all over his shirt.
Seemingly from nowhere, the guide pulled out a bottle of miracle stain cleaner that he sprays on Dad's shirt.
Barreaud looks at me and smiles, "He's becoming Italian!"
U Zù Caliddu – MAP
C/ del Piano dell'ochio
Torretta (PA)
091 8983913
Food and travel writer and photographer Joe Ray is the author of the blog Eating The Motherland and contributes to The Boston Globe's travel blog, Globe-trotting.