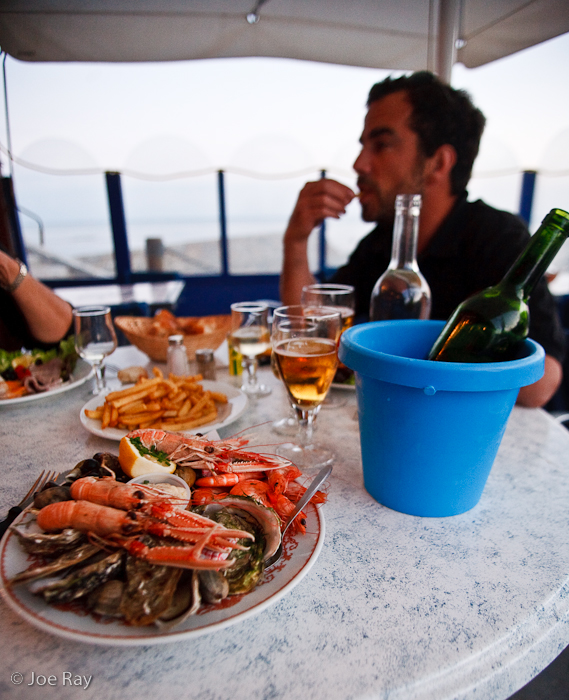 By Joe Ray

ILE DE RE, France
I'd trade a friend in a high place for one who knows where to eat.
Spend a bit of time on this island and you'll inevitably end up at the Café du Commerce in Ars en Ré. It's one of the few places open all year, a good place to socialize and renew your love for bric-a-brac, but I don't remember a thing I've eaten there.
Visit a few times, however, and a friend might start bringing you to their favorite places.
Olivier and Moumoune (his 'Mama') brought me out to Aux Frères de la Côte which sits on a seawall – la digue – at the end of the road in Ars en Ré. If I'm going to splurge and get a plate full of seafood or a dish of oysters, the edge of the sea is where I want them.
Service is flighty but friendly, wine is chilled in a plastic beach bucket and the fries on the neighboring table look so good, we order a plate for ourselves.
Star of the meal? Tiny, plump clams known as palourdes, served raw in their unopened shell; it's up to you to liberate them with a knife and their sweet, briny and fresh flavor are worth the trip.
Count on 20-40€.
Aux Frères de la Côte - MAP
Route de La Grange
Ars en Ré
+33 (0)5 46 29 04 54
Warm months only.
Food and travel writer and photographer Joe Ray is the author of the blog Eating The Motherland and contributes to The Boston Globe's travel blog, Globe-trotting.