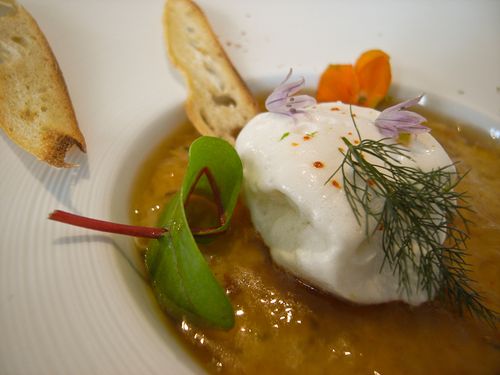 It's funny, but sometimes the Michelin guide becomes so conventional in its judgments that it regularly runs into problems. The most flagrant example is in Biarritz where all of a sudden the worthy Sissinou has lost his star (which he never asked for), while the novice Rosiers has been awarded one just like that.
Andree and Stephane Rosier recently took over Les Platanes (formerly successfully presided over by Arnaud Daguin) and quickly got down to business by snaring a Michelin star. It should be said that the guide wasn't taking much of a risk as Andree Rosier is the first woman to have won the title of "Best Worker in France," which ought to guarantee a cuisine that's technically proficient (although the pre-cooked risotto was served after 6 minutes instead of the required 22), and solid like this crab aspic (a little clumsily done, to be honest).
Pleasant for all that, like the service that's just a smidgeon too familiar. Decent fish (monkfish piperade) but it's missing that certain something you expect.
32, avenue Beau Soleil, 64200 Biarritz (05.59.23.13.68) ; www.restaurant-lesrosiers.fr  Map Figure 40 euros.