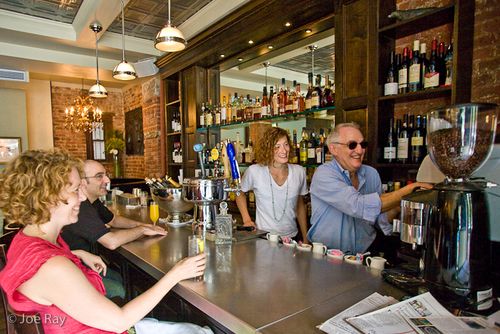 By Joe Ray
NEW YORK CITY
Time to toot our own horns!
Last Friday, Simon Says was mentioned in the New York Times 'Diner's Journal' section - our third NYT mention in less than a year! - read it here.
Next, my NYC food and drink centric story and photo set - "Small Wonders" - ran Sunday in The Boston Globe's Travel section.
A blurb...
Across the river, I walk into Fort Defiance, a new bar that's a subway, bus, and world away from Manhattan in Brooklyn's Red Hook neighborhood .

WHAM, WHAM, WHAM!!! Behind the bar, St. John Frizell, the owner, clubs a cloth bag of ice with a large wooden mallet to make a drink called the prescription julep, an 1857 recipe that blends cognac and rye whiskey, which are poured into a metal shaker cup and topped with a sprig of mint and a cherry. If it sounds a bit froufrou - like there should be a little umbrella shading the ice - instead, it looks perfect, almost serious, like something to pay attention to while you drink it.
Read the whole story here.