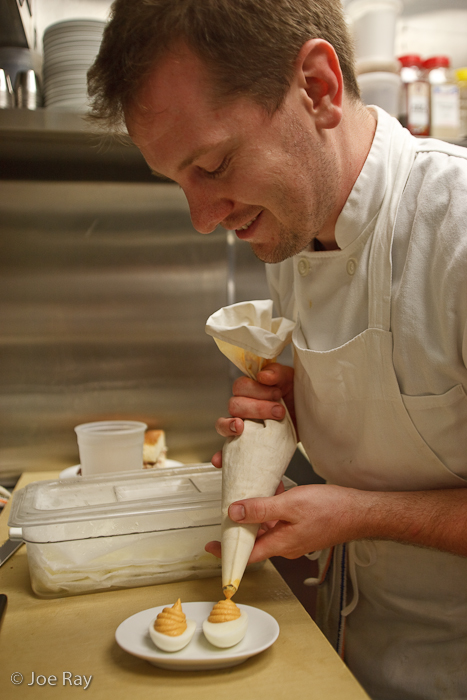 RED HOOK, BROOKLYN
By Joe Ray
Now that I'm back home and typing up a bushel of NYC blogs, the one place I really want to go back to is Brooklyn's Fort Defiance. Not only are the drinks top notch, chef Sam Filloramo wowed me while, thanks to some sort of new restaurant timing/shipping glitches, he was still working from a half-empty* kitchen.
His deviled eggs were so good, I went home and told my mom about them and if that wasn't enough to get me to want to go back, the ever-changing menu they now post on their Web site does: rabbit and chorizo hash, oysters Rockefeller, pan-fried catfish … my
word
. Apparently, they even do breakfast and all I can do is imagine the possibilities.
I'm interested to see how the combination of a serious drinks bar combined with chef who's making his mark pans out. It can only be good.
Fort Defiance -
MAP

365 Van Brunt St

Brooklyn, NY

+1 347-453-6672

www.fortdefiancebrooklyn.com
*Apparently, in mid-September, after the equipment arrived, a health inspector stopped in to check the kitchen and found gas equipment without gas service - like a car with an empty gas tank - and decided the restaurant would be better off closed for the week until they got the pipes hooked up… go figure.

Click here to see my Boston Globe Travel story, "Small Wonders" - featuring an interview with Fort Defiance owner and drinks expert St. John Frizell.

Food and travel writer and photographer Joe Ray is the author of the blog Eating The Motherland and contributes to The Boston Globe's travel blog, Globe-trotting.