PARIS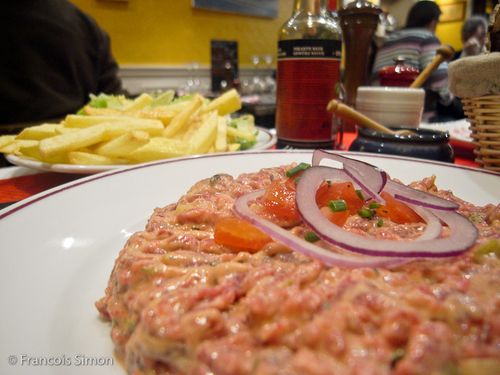 When the biting cold starts nipping at Parisian ankles, nothing beats a meal that's fit enough for a barbarian and hearty enough for a Hun to invigorate you. I crave comforting addresses, places where the table is dense, shameless and saucy. Our capital is riddled with these grottos, solidly secured to the rock. But watch out – they mean business. To catch the boss's eye, you have to weigh 200 lbs. and really be able to put it away. That suits me fine...
 The waiter insisted we taste the ravioli salad. My theory is that this was a guileless suggestion, due only to some opportunity at the morning market. We went ahead with the splendidly failed and shriveled ravioli dragging their greasy resentment through an acceptable salad enlivened with pine nuts that almost saved the dish.
The steak tartare is thriving and abundant, appropriately seasoned, catches your attention and proves very tasty. It sticks to its intentions, pirouettes… Extremely pleasant with choice beef from a first class butcher, Hugo Desnoyer. The French fries were hopeless. A disaster. They'd been handled most carelessly and that's no way to treat the fundamentals… A crying shame. It's kind of sad to see a place that collects quality labels and press clippings treat such an easy dish offhandedly, wouldn't you say? Not to mention that it's quite unexpected. The apple tart also has a hard time mustering a semblance of taste. It, too, seemed struck by a sort of loss of consciousness. For 111,50 euros, that's barely passable.
L'Opportun, 62, boulevard Edgar-Quinet, 75014 Paris
+(33)1.43.20.26.89
Map