By
Joe Ray
PARIS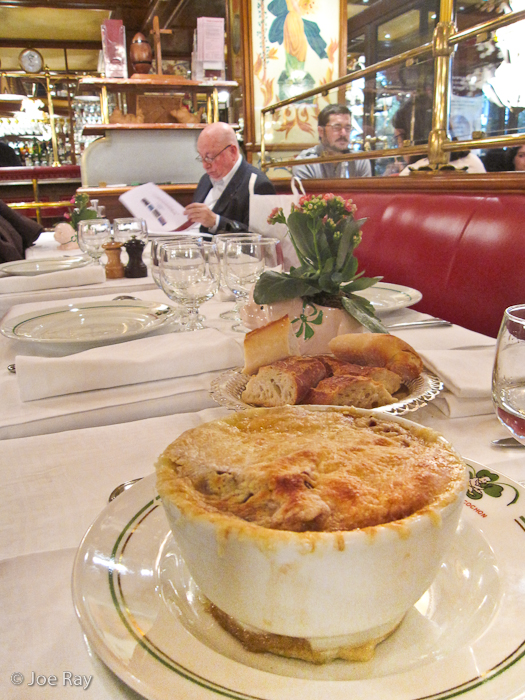 The "
Run Away!
" category was designed for meals like this.
A rainy, hungry cold and dark afternoon in Paris called for something warm and reassuring. We almost went for pho in Belleville but my visiting friend suggested soupe à l'oignon (French onion soup) it seemed perfect.
Le Pied de Cochon is a Paris classic dating back to when Les Halles was the mammoth food market I'd give my pinky to have seen, not the current resident: a subterranean shopping mall that both houses and smells like a swimming pool. Restaurant names from the market period were designed with its oft-illiterate workers in mind. If you were looking for the boss who was cutting a deal for broccoli or tossing a couple back, he would be at the Chicken in The Pot, the Bell, The Drum or…the Pig's Foot.
I was reassured that though the tourists were making up a majority of the customers - particularly as it was only four in the afternoon - there was was also an older, distinguished looking gentleman eating by himself and reading Le Monde dated the following day.
Waiters and waitresses buzzed around, giving the restaurant a wonderful, busy feeling and when the soup arrived, and we breathed in its wonderful smell - a bit reminiscent of Mom's chicken pot pie - we felt like happy and lucky little kids.
We should have stopped there. The soup tasted like soap.
At least the broth did. I nibbled my way dutifully through the cheese on top, hit the broth, winced, tried again, tried my friend's broth and then just stopped eating.
I
never
stop eating.
What's worse is that this is the traditional food for served in Les Halles, arguably the birthplace of soupe à l'oignon. I tried distracting myself by thinking of the word Francois might use when confronted with something like this, but in the end it was all mine: atrocious.
We split duck confît that arrived cold and limp and when we sent it back for a warm-up, it came back lukewarm and limp.
That was enough. We left.
Count on around 15-30 euros better spent elsewhere.
Au Pied De Cochon -
MAP
6 rue Coquillière

75001 Paris

+33 1 40 13 77 00

www.pieddecochon.com
Food and travel writer and photographer Joe Ray is the author of the blog Eating The Motherland and contributes to The Boston Globe's travel blog, Globe-trotting.