PARIS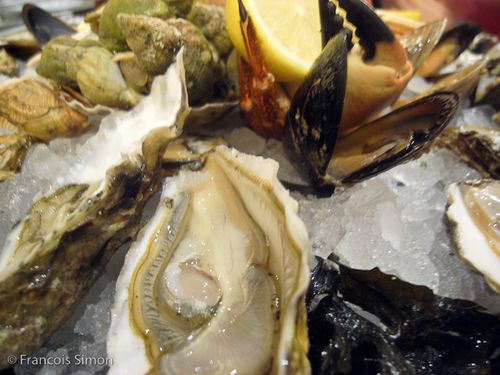 A leisurely visit to the north of Paris, and suddenly, an urge for a seafood platter overwhelms me. I like the Wepler for the atmosphere, but when it comes to seafood, just between you and me, I prefer Garnier, particularly for its oyster bar. When the weather's cold, with a glass of ice-cold Muscadet, it's simply delightful...
At the Wepler, tonight, the seafood platter seemed to take forever to reach our table. A good half hour! As we waited, we emptied the breadbasket, played with the bread and fiddled with the wine bottle. It was a relief when a platter appeared at the end of the aisle. Alas, it was for the table next to ours. When our platter finally did arrive, we were ready to suck on the ice! Having regained our composure, we found the platter was negligent in the discharge of its duties, not brilliantly fresh, a bit apathetic. The langoustines were a bit dry, though they seemed to be dance with their claws spiked to their tushies. The oysters, at least, were spirited and proud to carry the day, while the spiral-shelled whelks were a bit old looking and the shrimp simply unfit for play.
Luckily, the crab was there to liven us up, get us gnawing and fuel our impatience. As for desert, things were much the same: the meringue glacée was icy-cold, but the meringue was practically reduced to powder. As for service, I'd call it a foul. Everything came late. But what really took the cake was the last glass of wine I ordered towards the end of the seafood platter, which arrived… after the bill - where it appeared, of course.
With three kids and a single dessert, it's expensive, quite expensive: 184,30 euros! Want to know the worst part? I may well go back anyway! Sigh…
Wepler, 14, place de Clichy, 75018 Paris (+33) 1.45.22.53.24. Map