PARIS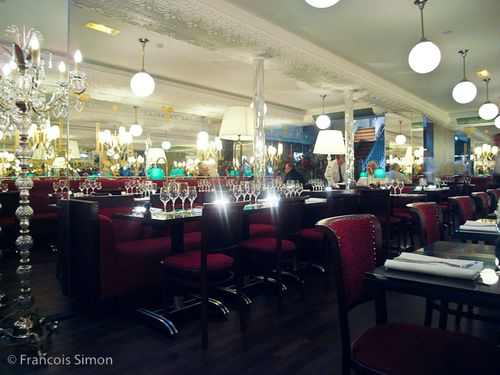 Jean-François Piège left the Crillon to settle in at Thoumieux armed with an iron will and, more importantly, a palpable desire to do battle with gastronomy. Of course, some of you will once again deplore the Costes style, but what can you do? I find it delightful: pretty girls, and waiters who ply their trade with pride…
The dishes and prices fend for themselves: 10 euros for a warm endive salad with cheese and lightly smoked ham. Right up my alley! Barely "snacked" brill filets and a jardinière from "Joël's" (21 euros). Perfect. Churros and baba au rhum from Millet's, along with cheeses from Bordier's at 8 euros. Banana and lime vacherin that leaves you swinging from the chandeliers…which are attached to a lovely, freshly remodeled 1940's ceiling.
A wine menu worthy of the name, crunchy-crusted quality bread, real napkins… It shouldn't be long before the profession shows up to steal ideas and I'll be only too pleased! Maybe Parisian brasseries will finally be revived, start bubbling over with mirth and attracting the throngs and pretty girls again. Thoumieux's soul had slipped away, but it's back! Surely, this is among the best news of the season.
Hôtel Thoumieux, Jean-François Piège/Thierry Costes.
79, rue Saint-Dominique, 75007 Paris. Phone : +33 1 47 05 49 75.
Open everyday from 12 pm to 2:30 pm and from 7 pm to 10:30 pm, soon to be noon to midnight non-stop.
Map