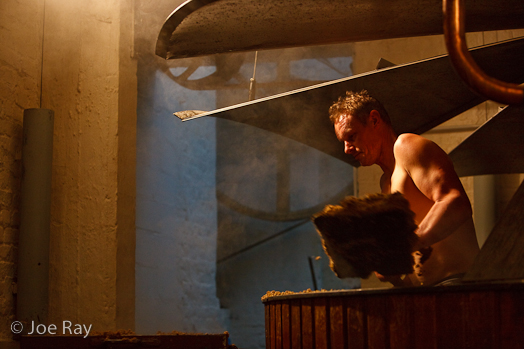 My apologies for nicking the title of a book dedicated to the late beer and whisky expert, Michael Jackson, but I think he'd approve.
I've got a pair of stories out published in the last few weeks in The Boston Globe's Travel section worth the hunt and the chase. First on tap is a look at Lambic beers in Belgium. It gives a sense of how this "wild beer" is made, the people making some of the best along with where to go, eat, drink and stay.
Here's a taste:
Belgium is boring.

That was the preconception. Then I remembered: great fries, friendly people, beautiful architecture,
and beer that makes aficionados drool.

What was I thinking?

I grab a cone of fries and head to a brewery where I begin to understand why beer, particularly
lambics — ''wild beers'' that are products of ''spontaneous fermentation'' and aged for three
years in oak barrels — runs in Belgians' veins...


Click here
to read the story on the Boston Globe's site or
here
to read it on joe-ray.com, where you can also find a PDF copy of the story in its print format.
Next, I headed to Scotland for a whisky road trip...
The roads between the Speyside region and Kennacraig are a driving enthusiast's dream, flecked with micro-towns, straightaways, S-curves, views of the Loch Ness, and signs that read ''Stone Skipping Championships This Saturday!'' and ''Apples £1/BOX.''

The cafe on the ferry from Kennacraig to the island of Islay (pronounced EYE-la) is a sign of good things to come, with representatives of almost every distillery on the island behind the bar — a short and sweet selection that would blow most American bar choices away…
Care for a wee bit more?
Click here
to read the story on the Boston Globe's site or
here
to read it on joe-ray.com.
Food and travel writer and photographer
Joe Ray
is the author of the blog
Eating The Motherland
and contributes to The Boston Globe's travel blog,
Globe-trotting
.