PARIS
By Joe Ray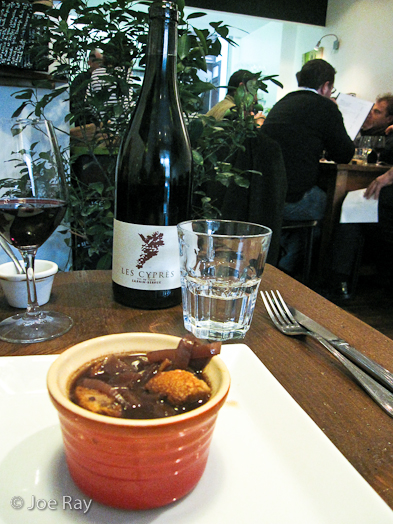 My tolerance for number of days cooped up in the kitchen in an effort to avoid bad weather ended today. I should have come out sooner.
Acting on a tip from a friend…who recently acted on a tip from Francois...I cross town on my bike, popping up to meet friends in the lower reaches of the 14th arrondissement at Le Jeu de Quilles.
I'm a bit early and watch a table of six guys who were clearly on an afternoon out at one of their favorite spots, downing good wine and asking the chef about where to get a whole lamb to roast.
Ann has barely sat down when she says,  "The sun's out!" with a smile like she was recognizing a long-lost friend who'd grown a beard since the last time they met.
The prix fixe lunch plan is simple: choose from three appetizers, two mains and a handful of desserts for 25 euros. There's an à la carte menu that makes me want to come back for dinner. In form and function, it quite resembles the original version of Spring and Le 122.
Along with a generous, high-end charcuterie plate, highlights included an oeuf cocotte, swimming in a wonderful shallot-y red wine sauce and resting on a hidden strip of pork fat.  There's also a braised pork main with a hot, pudding-like side of polenta laced with Emmental and tasting of real corn bread.
"This tastes like America!" I blurt.
Dessert was a still-bubbling pear and apple crumble, arriving with a 'watch your fingers' warning from the waitress. Imagine hot, crushed Pecan Sandies above hot, buttery fruit and all the dairy farmers you're supporting with this one dish!
Sun on a plate.
Lunch prix fixe menu: 25 euros (21 if you skip dessert, but why would you want to do that?). There is no prix fixe at dinner where appetizers run between 12 and 20 euros and mains are in the mid-20s.
Le Jeu de Quilles MAP
45 rue Boulard
75014 Paris
+33 1 53 90 76 22
Interested in a little, um, 'he said, she said' on Jeu de Quilles? Test your French and read Francois' recent review here.
Food and travel writer and photographer Joe Ray is the author of the blog Eating The Motherland and contributes to The Boston Globe's travel blog, Globe-trotting.