PARIS
By Joe Ray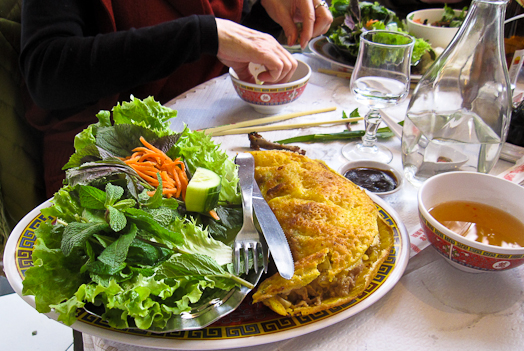 I'm a bit of a pho fanatic. Years ago, I worked in chef Didi Emmons' restaurant Pho Republique in Cambridge, MA. As a birthday present to my sister, I made up a gift certificate for the place before it opened. Once we went, I liked Didi's version of Vietnam's signature soup so much, I got a part-time job in the kitchen. I had to know.
Knowing in Paris may require a compass. Or a Pierre with Vietnamese heritage.  This place - a pagoda-lined pedestrian street lined with residential high-rises - looks more like Mars than Paris. Just before you open the door, however, you can smell that you're in the right place.
It's all in the broth. Good pho broth bubbles away all night, pulling flavor from a giant pot of goodness that usually includes beef, bones, ginger, charred onion, star anise and lemongrass. There are scores of variations including vegetarian, chicken and seafood versions. I could have imagined a version of this one - clear, clean and complex as any wine - as part of a recent meal at El Bulli. (!)
In Paris, I'm a regular at Belleville's Dong Huong, where they make a very respectable bowl, but until today, I'd forgotten the magic that made me fall in love with pho in the first place.
While the star is the soup, the whole meal is fantastic. Consistently good plates like a Vietnamese crepe with mushrooms and marinated pork, fresh nem, pork ribs and marinated, grilled pork strips, all play with flavor and texture - even at dessert. Nothing misses the mark.
At less than 20€ for a royal feast and a drink, this is one of the best-priced meals in Paris.
Restaurant Quan Ngon
MAP
63 rue Javelot
75013 Paris
+33 1 44 24 35 59
Food and travel writer and photographer Joe Ray is the author of the blog Eating The Motherland and contributes to The Boston Globe's travel blog, Globe-trotting.