PARIS
By Joe Ray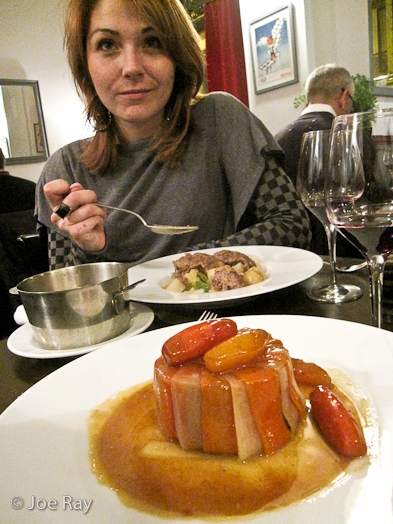 Locals hate when a place like this gets on the map.
Despite being lost in the far reaches of the 15th arrondissement, there should be a Sparkler marking Jadis' spot on the map instead of a thumbtack. On the night we're there, it's 50% out of towners, easy.
They're no dummies. There's a great, clean, modern menu with a prix-fixe dinner at a fantastic 32 euros and a quality that makes me want to savor each dish.
Everything goes the way it should: a cauliflower mousseline and smoked herring 'mimosa' entree is a layer of creamy cauliflower under a layer of shiny black gel (This is where the herring is and I'd love to know how they transform a fish from the Atlantic into something black as ink and terribly tasty) under florets, bits of egg yolk, black fish eggs and chervil. The dish plays with color, contrast, texture and even definitions.
Later, there's a house version of a blanquette de veau, this one forsaking cream,  and allowing the diner to spoon their own melting-soft hunks of veal from a silver serving pot onto a dish of winter vegetables. I try a pheasant 'chartreuse' - a like a  dreamy disc of pâté, wrapped in a pinwheel of root vegetables - pungent within, beautiful without.
Dessert includes a pistachio riz au lait with a grapefruit and honey 'salad.' I think the idea is to combine the two, but they're beautiful on their own.
There are tasting menus for more money, but I'd rather come back and spend more time with each dish than try smaller portions in one sitting.
There are two seatings with a grey area between them at turnover time when service gets a little harried, but it always remains friendly. Reserve ahead - that Sparkler's burning bright.
Count on just shy of 50 euros.
Jadis
208, r. de la Croix-Nivert - MAP
75015 PARIS 
T 01 45 57 73 20
m° Convention / Porte de Versailles
Food and travel writer and photographer Joe Ray is the author of the blog Eating The Motherlandand contributes to The Boston Globe's travel blog, Globe-trotting.