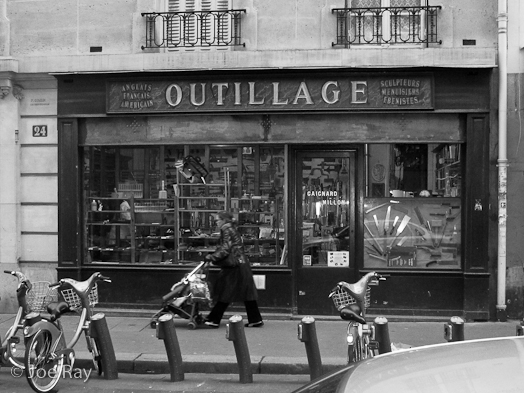 I'd searched for almost 10 years ever for someone to sharpen my knives in Paris. Never found a thing.



Closest I got was the boys at E. Dehillerin who had some sort of outsourcing deal, but I didn't like the idea. Once burnt…
A decade ago, I took my Wüsthof chef's knife to a sharpening shack just north of the Golden Gate. I had the vaguest whiff of apprehension when I dropped off my knife and should have listened to my instincts: the guy put a hole in my knife.
At the end of the cutting edge, just before it meets the heel, the guy pushed a little too hard; put it on a flat surface and you could see light coming through the other side. Made me want to cry. Who knows? Maybe he was using the lawnmower blade stone.
The blade cut beautifully through 99 percent of the vegetable, then stopped, leaving me with celery that looked like a slinky heading south if I didn't exaggerate the rocking motion of the cut.
Then I found the guys at Gaignard-Millon Outillage et Machines on a back street near my old flat in the 11th - one of those places that leaves a guy with any sort of wood shop experience slack jawed and drooling in the front window.
There are Japanese saws, chisels, hammers and beautiful knives from around the world…and the shop is quite good at sharpening.
It took a couple tries, but they fixed my knife as well as they could.
Not long ago, after years of staring longingly into shop windows at santoku knives, I walked into Gaignard-Millon and bought one, along with a sharpening stone.
The transaction was a lesson in knife care and sharpening not unlike I was taking Mr. Millon's (Mr. Gaignard's?) brand-new Peugeot - a car whose every feature he'd memorized the day he bought it - for a for a spin.
"You may not use this knife on one of those glass cutting boards," was my favorite instruction/commandment. I cringed at the idea like he'd run his fingers down a chalkboard and he smiled approvingly.
My new knife corners like it's on rails and Gaignard-Millon's got a client whenever I'm in town.
Gaignard-Millon Outillage et Machines - MAP
24 rue Jules Vallès
75011 Paris
+33 1 43 71 28 96
Food and travel writer and photographer Joe Ray is the author of the blog Eating The Motherland and contributes to The Boston Globe's travel blog, Globe-trotting.