BARCELONA
By Joe Ray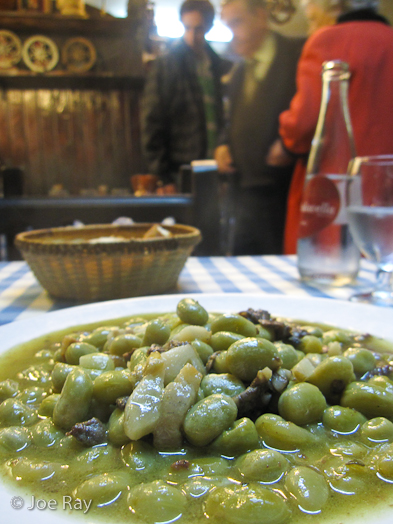 Now, I understand.
For years, I'd tried the classic faves a la Catalana - a broad bean dish without ever understanding why dish makes up part of the Catalan canon. Wrong places? Bad luck? Who knows? It's all over now.
I'd wondered about the Sants' neighborhood's Can Manel - which typically has, say, a whole roast suckling pig and some grilled artichokes in the front window - looked like it could be great or a dud and the only way to know would be to try it.
I finally bit the other day - they have a menu del dia for 10 euros and I was hungry.
It was clear when the beans were set in front of me that I'd have a new outlook on things.
Sitting by myself, I must have said, "Man, these are good!" to myself 25 times. The beans are rich, hearty and buttery-textured, brought to life with small quantities of - get this - three kinds of pork products.
"Bacon, blood sausage and jamon," explains the waiter.
While my main - slices of pork loin (more pork!) with fries - is admittedly less interesting, they use good product.
I'll be back.
Restaurant Can Manel - MAP
Galileo, 85
Barcelona
+34 93 339 10 47
Food and travel writer and photographer Joe Ray is the 2009 Lowell Thomas Travel Journalist of the Year and author of the blog Eating The Motherland.