BARCELONA
By Joe Ray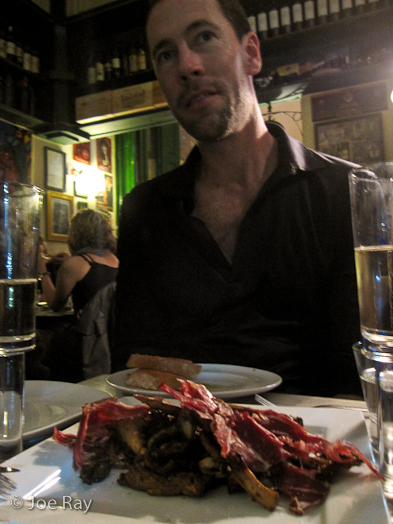 Walking out of the flat with two visiting friends, I point out the Celler del Nou Priorat - a local favorite in the Sants neighborhood run by a trio of Cubans that's exactly the kind of place you pray to find when you're wandering around looking for a place for dinner.
Instead, my idea is to get out of the neighborhood and do a Poble Sec tapas crawl. I drag my pals around to find that the three places I want to go - Quimet & Quimet, the new bar at Xemei and inopia are, respectively, closed, full and full.
I put in a desperate call to the Cubans and we hop in the metro and head toward home.
Once I sit, it takes only a glass of Cava, some sweet potato chips and a plate of pimientos de padrón for me to go from feeling like I've lost my touch back into the Food Leprechaun.
Olives help, too. And maybe some mushrooms sautéed with little bits of jamon. And there's an octopus dish that has a friend from Lisbon take a mental return trip home with one bite.
There's a famous brownie for dessert, but we get perfect, sweet and minty mojitos instead. 
Cuban? Catalan? Spanish? Not really. More like fresh-from-the-Catalan-market inspired Cuban/Catalan/Spanish goodness. More like yes, yes and more please.
Count on 15-30 euros, redemption included.
 
Celler del Nou Priorat - MAP
Vallespir 19

Barcelona
+34 934 905 952
Food and travel writer and photographer Joe Ray is the 2009 Lowell Thomas Travel Journalist of the Year and author of the blog Eating The Motherland.