BARCELONA
By Joe Ray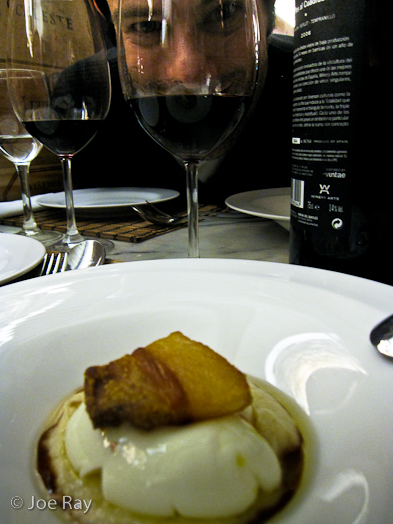 Hot off the press? Hot off the griddle? Who cares?
Located at the bottom of the culinary wasteland of Las Ramblas, Cuatro is new, very good and a solid value.
Reserve now - they may be working out the kinks, but it's going to be full to the gills very soon.
Kinks? There's a bit of a split personality - the sign on the door says "Bar Cuatro" giving the hurried and hungry every reason to walk past. There are noble G&Ts, good value wines, but it's not a destination bar - it's a destination restaurant.
The dining room is spread out, spacious and relaxed, making me wonder why they didn't give themselves a little more room in the kitchen or if they're planning on squeezing in a few more tables once they've hit stride.
Order à la carte if you will, but there's a six-course degustation menu for two at 25€ a head and you get to choose which courses to try.
Our foursome, including my tipster, Barcelona food writer Carme Gasull, Edu and Meri, start with a duck crepe with red fruit chutney, which is like hot duck rillettes, minus some of the fat, rolled into a crepe, with a nice acidic bite from what's really a drizzle of fruit reduction. It sets a nice tone for what's to come. 'Calamari strips with wasabi mayo' are fried in a tempura-like batter, which would normally make me whine about needless poaching from other cultures if it wasn't so good. 
My favorite main - which elicited bipolar responses from our group - is a poached egg over a cauliflower cream with a wiggle of truffle oil and a tiny slab of wonderfully fatty bacon, everything bathing in a spoonful of olive oil and (I think) meat jus. I'm also almost forgetting the side of vanilla-scented mashed potatoes that came with a braised veal cheek. Giving the spuds gentle sweet, savory and honey-like flavors, none of us could figure out the mystery ingredient, likely the fruit a clever collaboration between chef Aitor Bergaretxe and lauded pastry chef Vicente Carvalho.
The wines, sourced by sommelier Jaume Martorell are smart, unique and good values - we have a 2009 Tempestad, a Galician beauty made with the godello grape - and the peculiarly-named 2006 Squared Three (bzah! - the number on the label is three squared), a grenache, tempranillo and merlot blend from the Rioja that leaves us every bit as happy as the godello.
There's a salty chocolate mousse for dessert, presented in a way only a Catalan could appreciate, but the superstar is a play on french toast with a Parmesan 'cake' and pear sorbet. This alone is worth the visit. 
Count on 25 euros, whether you order à la carte or the tasting menu, plus wine.
Cuatro
C/ Montserrat, 4 (a stone's throw form the Drassanes Metro)
Barcelona
+34 93 301 43 24
Food and travel writer and photographer Joe Ray is the 2009 Lowell Thomas Travel Journalist of the Year and author of the blog Eating The Motherland. Twitter: @joe_diner.