BARCELONA
By Joe Ray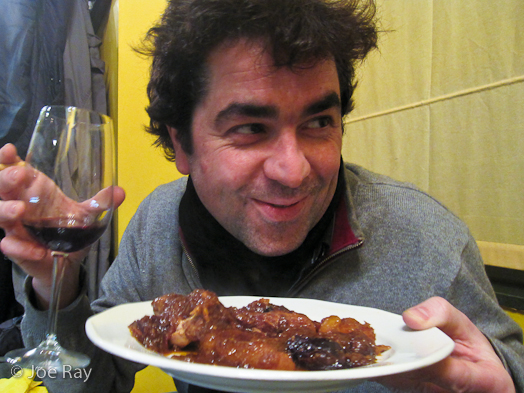 I did something with this place I don't usually do: I recommended a restaurant to a friend without having been there to eat in a long time. A friend from London was coming into town for what the Brits call a 'hen do' (a.k.a. a bachelorette party) right around the time another friend who runs Slow Food Barcelona was talking about a favorite restaurant: Mam i Teca. There seemed to be a bit of serendipity involved, so I went with the flow. Now that I've gone, I can't decide if it was a good idea.
At first, I thought the tiny restaurant lacked a bit of soul, but I figured out that it feels like that you're eating in the semi-industrial living room of the guys who run it, right down to the Johnny Hallyday on the radio and the waiting for the waiter/barman to finish up his conversation with the client/friends at the end of the bar before you can ask for another napkin.
If you like that sort of stuff - it can have its charms - you're in for a treat. I love that feeling that the two guys who run the joint are clearly doing exactly what they want to be doing, but I wonder how many other people come out of there feeling a little weirded out by the experience. The cuisine is Catalan and you can understand the Slow Food connection; product is excellent. Xató - a salad of escarole with salt cod and olives with romesco sauce wasn't much to write home about, but it was counterbalanced by a sweet and salty rabbit stew with apricots and prunes. Mmm!  Our favorite dish, a mix of just-cooked mushrooms, asparagus and garlic drizzled in olive oil was so good, we ordered it twice.
I can't remember the last time I did that.
Maybe it was a good idea to send the hens here.
Mam i Teca - MAP
Carrer de la Lluna 4
Barcelona
+93 441 33 35
Food and travel writer and photographer Joe Ray is the 2009 Lowell Thomas Travel Journalist of the Year and author of the blog Eating The Motherland.