BARCELONA
By Joe Ray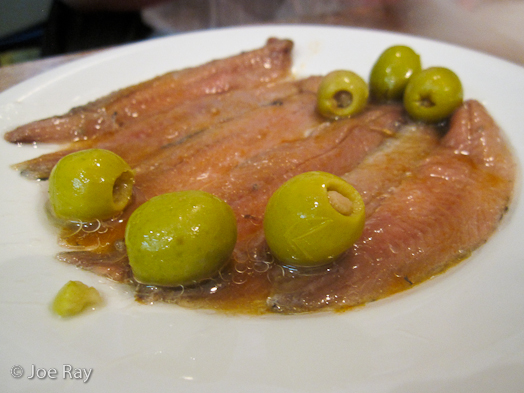 Similar to the way he divulges his kitchen secrets, Toni's stingy when it comes to sharing his favorite places to eat in Poble Sec - my favorite Barcelona barrio.
We were out picking up supplies for a soup he was making and as we walked down the street from La Cova, he casually mentioned how their anchovies were the neighborhood's best. 
I did not fail to take note.
Ari and Diego (my hot-stuff Web designers), Meri, the queen of all wine, and I went up to check it out a few weeks back. Truthfully, I dragged them along, but nobody complained.
You'd walk past La Cova 1,000 times, but once you're in, you never want to leave. Anchovies are served up six to a plate and there's a fantastic bit of skin on the underside adding extra flavor and silky texture. Twice, my notes read "fleshy goodness" and they're bathing in a tiny pool of house-blend olive oil, vinegar and secret spices - if you ask, the owner might divulge his secrets.
Ari will later refer to La Cova as "The place with the amazing anchovies." Toni would turn red. 
Four beers, two plates of anchovies and pa amb tomaquet (tomato bread) came to about 12 euros. 
Hard to beat.
 
La Cova MAP
Margarit, 52
Barcelona
+34 934 411 063
Food and travel writer and photographer Joe Ray is the 2009 Lowell Thomas Travel Journalist of the Year and author of the blog Eating The Motherland. Twitter: @joe_diner.