By Joe Ray
BARCELONA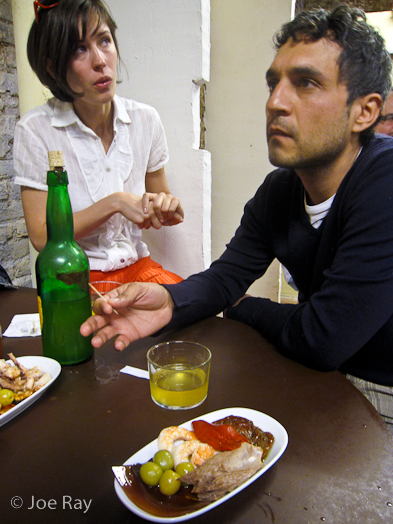 We roll out of "the place with the amazing anchovies" and head next door to the new Cal Marino - which, with walls lined with bottles, barrels and a bar full of tasty vittles, looks like Quimet & Quimet's little cousin.
Toni brought me here for a quick snac a month ago and I wanted to check in again and see what's cooking.
They don't cook much, actually, they source. There are gourmet snacks a gogo - lots of good things to skewer with a toothpick and a few combinations à la Quimet. There are plates with excellent olives, tasty shrimp, or little bites of octopus; you'd have to make a concerted effort to make a meal out of it, but paired with, say, a good cider, they get the appetite racing, the conversation moving.
They're still working out a few kinks; I tried flagging the waiter for some tomato bread and he made a long-distance stiff-arm gesture that said, "Can't you see I'm overwhelmed?" Come in at a quieter time, however, and the barman/owner will be happy to teach you about the products he stocks.
They'll work it out. Can Marino is a great launching point, a future neighborhood reference as a watering hole and part of a great one-two punch after you have some of those anchovies.
Count on 5-15€ depending on how much of a meal you want to make of it.
Can Marino - MAP
C/ Margarit 54
Barcelona
+34 93 329 45 92
Food and travel writer and photographer Joe Ray is the 2009 Lowell Thomas Travel Journalist of the Year and author of the blog Eating The Motherland. Twitter: @joe_diner.